With pet-friendly options available when travelling across the globe, more and more people are wondering if they can take their little furry friend on a cruise. Whether they're needed as an emotional support animal, a service dog, or just an extra friend you want to bring on your adventures, the need for pet-friendly cruises is growing at a rapid pace. But the question still stands: can you take your pets on cruises?
Can you bring pets on cruises?
Unfortunately, aside from one, none of the major cruise lines you love offer any pet-friendly cruise options. So, if you've been thinking about taking your dog or cat on an ocean cruise in the Bahamas or a voyage out to Japan, you will have to look into other options.
The main exception comes for assistance dogs and service dogs, who are allowed on some cruise lines such as Seabourn, Windstar, and Azamara. Other cruise lines have a very strict no-pets allowed at all including service dogs. What's more, the pet-friendly cruise lines will undoubtedly have their own strict guidelines, with certain ships only allowing certain types of service dogs. For example, they may allow service dogs that aid with a disability, but won't allow for emotional support pets.
Either way, we urge you to take the time to research the cruise line you wish to sail with and see what types of service pets they allow on a cruise holiday. If you don't, you might accidentally hit book on a voyage you could regret later!
So, which cruise line can I take my pet on?
The only cruise line that offers pet-friendly cruises is Cunard Line's Queen Mary 2. On select transatlantic sailings, specifically between New York and Southampton, guests can bring their pet dog or cat onboard and have them enjoy the voyage with you.
Where can my pet go during a Queen Mary 2 cruise?
Unfortunately, your pet will not join you in the comfort of the cabin, instead your furry friend will have their own spacious onboard kennel on Deck 12. In addition, your dog or cat is not allowed in any other area of the ship, and is restricted to just the kennel area. Have no fear, the kennel area comes with its own outdoor and indoor play area which you can visit every day throughout your pet-friendly cruise. A kennelmaster is present at all times of the voyage, and they'll quickly to get to know every single furry friend to ensure they receive the best treatment.
What about food on a Queen Mary 2 pet-friendly cruise?
Worried about what they eat? Don't worry! Cunard will ask you well before the voyage the dietary requirements of your dog or cat. You can additionally bring your own pet food onboard, but any food regardless of whether it gets consumed or not stays on Queen Mary 2 due to customs limitations. We recommend checking in with Cunard well before the voyage to confirm whether your specific kind of food can be stocked.
Pets will be fed twice a day, once in the morning as soon as the kennelmaster arrives, and again at around 5pm.
Can I bring along their toys?
Definitely! While Cunard will provide your pet with a selection of toys to play with, nothing really beats their own favourite play toy.
Should I take my pet on a cruise?
Well, that really just depends on the kind of dog or cat you have. If you have a medium or small sized pet that doesn't need too much activity or running around to be happy, then a pet-friendly cruise with Cunard should be a-okay. However, if your pet needs to run around every day in a large open space, then bringing your dog or cat on a cruise likely won't work.
While there is a decent amount of room for your pet to play, a seven to nine-night voyage might be a little too long for your pet to remain comfortable. Furthermore, your pet will be sharing space with 23 other dogs or cats, so if you're worried that they'll be a little too anxious or rowdy, that could be a concern too.
But, if you think your pet will like its time aboard, we strongly recommend taking your pet with you on a transatlantic pet-friendly cruise! Your dog or cat will be treated extremely well, and due to the novelty, they will rapidly become furry celebrities on Queen Mary 2, with guests coming to see what animals are accompanying them on their voyage. What's more, a pet-friendly cruise might be a great alternative to having your best buddy being stuck in a cargo hold of an airplane. While longer, it's much better than them having to endure a very stressful and potentially dangerous flight.
Where can I book my pet-friendly cruise?
Right here! Our team of experts can help you book a fantastic pet-friendly transatlantic cruise onboard Queen Mary 2 in no time. We'll help you find the right itinerary for you and can take any additional requests needed to ensure your fuzzy friend remains more than happy throughout their entire voyage. Just contact Discerning Traveller and we'll take out all the stress with booking and let you focus on planning all the best parts.
In order to achieve true wellness, you need to ensure your mind, body, and spirit are each given the time and care it needs to thrive. While easily said, in practice, this can prove difficult,  as responsibilities with work, family, and life in general challenge you on a daily basis. One simple way to regain control of your wellness journey is through consistent and considered nutrition. By integrating delightful and nutritious wellness cuisine into your everyday diet, you will quickly build a strong foundation that can only prove beneficial for you in both the short and long term.
Wellness Recipes Everyone Can Enjoy
But what sort of wellness recipes should you start off with? Well, with help from renowned wellness resort Chiva-Som, we have a fantastic selection of wellness recipes that you can easily cook in your own time. Both nutritious and delicious, these wellness recipes boast delectable flavour profiles and all the nutrients your body needs to thrive. Combine these wellness recipes alongside sustainable physical health, meditation, and a balanced diet, and you the goal of true wellbeing will only grow every closer.
Hummus and Cruciferous Recipe
A flavour-packed wellness cuisine, this simple dish only takes moments to assemble and is a great choice for when you feel like a light yet rewarding meal. A perfect pairing of flavour profiles, the hummus and cruciferous dish is a wellness recipe you will quickly fall in love with. From the smooth chickpea hummus to the light chimichurri, be sure to give this dish a go!
NOTE: Gluten free, contains nuts, Vegan
Serves: 1
Ingredients
4g          Dukkah
50g        Cauliflower, cooked and cut into small piece
3g          Fresh red radish, thinly sliced/ 5 pcs
5g          Baby carrot, peeled cooked /1 pc
20g        Cabbage, cooked then rolled and cut into small bite size pieces/ 3 rolls
20g        Purple cabbage, cooked then rolled and cut into small bite size pieces/ 3 rolls
15g        Baby Chinese cabbage, cooked then rolled and cut into small bite size pieces/ 3 rolls
20g        Cherry tomatoes, cut crosswise/ 2 tomatoes
50g        Hummus
Hummus
500g      Chickpeas, cooked
50g        Tahini
20g        Lemon juice
20g        Olive oil
½tsp.     Salt
3g          Cumin
4            Ice cubes
Method
In a blender, add cooked chickpeas, lime juice, olive oil, salt and cumin and blend while adding the ice cubes one by one until smooth. Add tahini and blend again and mix well. Rest in the refrigerator overnight before use.
Chimichurri
12g        Chimichurri
20g        Parsley, finely chopped
100g      Shallot, finely chopped
10g        Garlic, finely chopped
75g        Coconut cider vinegar
2g          Black pepper, powder
2g          Salt
75g        Olive oil
Method
Mix all ingredients in a mixing bowl, while serving add the parsley.
Instructions
To serve: place hummus on the plate.
Arrange prepared vegetables nicely on the hummus.
Pour the Chimichurri on the hummus
Dukkah can be served separately in a small container.
Nutrients per serving
Kilocalories        300kcal
Protein               13g
Carbohydrate    31g
Fat, Total            15g
Serving amount: 215 g
Massaman Gai Recipe
If you love Thai cuisine, this Massaman Gai dish is a must-cook wellness recipe. Packed with rich and fragrant thai flavours and paired with soft and juicy chicken, the Massaman Gai recipe is a favourite of many throughout the globe. The creaminess in this wellness recipe comes from the coconut milk, and also boasts a high amount of healthy fats that your body will undoubtedly appreciate. An excellent wellness recipe when hosting guests or when you just feel like enjoying classic Thai flavours, try out the Massaman Gai recipe tonight!
Ingredients:
4            Chicken breasts, skin removed
250ml   Coconut milk
1 tbsp   Massaman curry paste
1            Cinnamon stick
2            Star anise
20          Almonds
5            Cardamom pods
2 tbsp   Miso paste
500 ml  Vegetable stock
1 tsp      Tamarind cider
1            Potato or Sweet potato, peeled and cubed
4            Small shallots, chopped
Massaman Curry Paste:
6            Dried chilies, deseeded and roasted
3cm       Lemongrass, chopped
2cm       Galangal
1 tsp      Roasted and finely chopped Kaffir lime zest
10          Almonds
3 Cloves Garlic, roasted
1 ½        Shallot, chopped and roasted
2 Cloves roasted and ground
1 tsp      Nutmeg
1 tsp      Mace
2 tsp      Cumin seeds, ground
2 tsp      Coriander seeds, ground
1 tsp      Cinnamon
1 tbsp   Soy sauce
Instructions:
To make the Massaman curry paste, use a pestle and mortar to pound the dried chilies until you have a fine powder, then, one at a time, add the lemongrass, galangal, lime zest, almonds, garlic, shallots, cloves, nutmeg, mace, cumin seeds, coriander seeds and cinnamon pounding the mixture until it becomes smooth before adding the next ingredient.
Once all of the ingredients have been incorporated, stir in the soy sauce.
To make the Massaman Gai, pour half of the coconut milk into a large heavy-bottomed frypan over medium heat and bring to the boil, stirring constantly.
Stir in the curry paste and cook for 2-3 minutes, or until the mixture is fragrant and thoroughly blended.
Add the cinnamon stick, star anise, almonds, cardamom pods and miso paste, then mix well.
Add the vegetable stock, tamarind cider and remaining coconut milk, and bring back to the boil.
Add the chicken, potato and shallots, then reduce to a simmer. Continue cooking until the chicken and potato are tender. Remove the chicken and potato and continue to simmer until the sauce thickens.
Return the chicken and potato to the pan and boil for 4-5 minutes, then serve.
Nutrients Per Serving:
Kilocalories        302 Kcal
Protein                23 g
Carbohydrate    15 g
Fat, total             17 g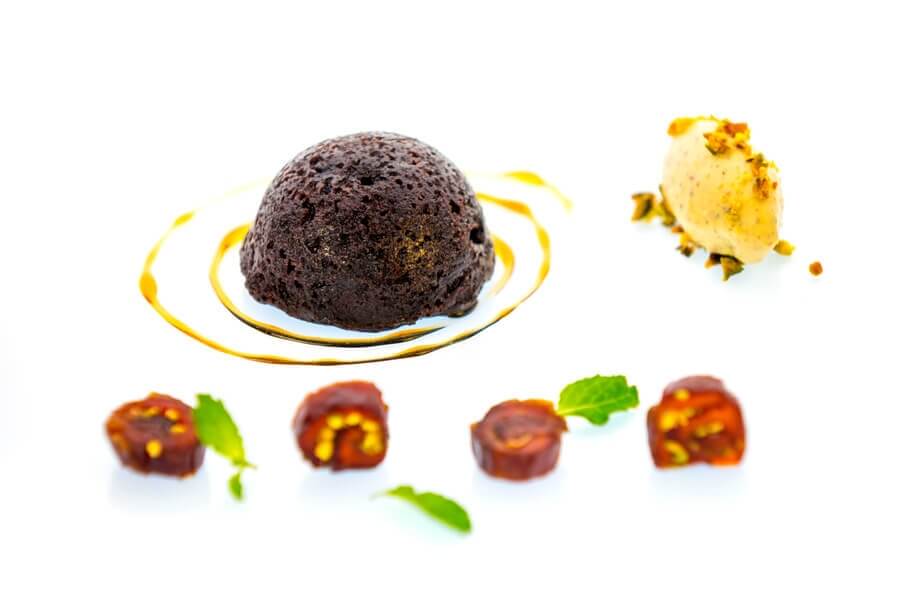 Sticky Date Recipe
Desserts don't have to be unhealthy to be delicious, and Chiva-Som's Sticky Date recipe from their 'Cooking with Light' collection by acclaimed Chef Paisarn proves it! A family favourite dessert dish for thousands of people across the world, this wellness recipe is simple to make and is the perfect comfort food for anyone feeling like a sweet treat. Featuring a delectable caramel sauce drizzled over an easy to bake cake, you just can't go wrong with this Sticky Date recipe.
Ingredients:
55g        Brown rice flour
1 tbsp   Cocoa
1 tsp      Baking soda
1 tsp      Baking powder
¼ tsp     Ground ginger
2            Egg yolks
60g        Fine brown sugar
2            Eggs whites
125g      Dates, diced then soaked in 60 ml hot water for 30 minutes
1 2/3 tbsp Coconut oil
8 scoops Passion fruit sorbet
Sliced dates, for garnish
Mint leaves, for garnish
Caramel sauce:
100ml   Honey
1 tbsp   Lime juice
1 tsp      Nutmeg
75ml     Purified water
Instructions:
To make the caramel sauce, place the honey in a saucepan over medium heat and cook until it smells slightly burnt.
Add the lime juice, nutmeg and water and simmer until the mixture becomes thick. Turn off the heat and allow to cool.
To make the pudding, preheat the oven at 120 c. Place the flour, cocoa, baking soda, baking powder and ground ginger in a bowl and mix well, then set aside. Whisk the egg yolks with 30 g of brown sugar until the mixture becomes pale, then set aside.
Whisk the egg whites with the remaining brown sugar until they form stiff peaks, then set aside.
Place the dry ingredients, egg yolk mixture, soaked dates (including soaking water) and coconut oil in a bowl and stir until combined. Gently fold in the egg whites until they are well incorporated. Pour the mixture into small pudding moulds and bake for 15 minutes, or until cooked.
To serve, pour some caramel sauce on a dessert plate and top with a pudding. Place a scoop of passion fruit sorbet to the side of the pudding. Garnish with crushed pistachios, dates and mint leaves.
Nutrients Per Serving:
Kilocalories 114 Kcal
Protein 1 g
Carbohydrate 24 g
Fat, total 2 g
Need help with your wellness journey or fine-tuning your wellness recipes?
While these wellness recipes can help kickstart your journey towards the inner balance between of your mind, body, and soul, sometimes the assistance of a guiding hand could provide you the real motivation you need to implement those healthy changes long term. If you need extra assistance transforming your well-being, we highly recommend making a reservation at the wellness resort Chiva-Som.
One of the top health resorts in the globe, this beautiful sanctuary takes a holistic approach towards your wellness, ensuring that all parts of you are well taken care of during your entire stay. Whether it's through nutrition, fitness, or targeted physical therapy, Chiva-Som will work with you to help center your wellbeing once again. If you want to learn more about this wellness resort or if you wish to discover more wellness recipes, contact Discerning Traveller today! Our team will work hard with you to organise the perfect wellness holiday with Chiva-Som that fits your schedule, budget, and preferences.
While there are so many places across Australia to visit on an extraordinary holiday, one region we can't help but place at the top of our list is the Kimberley. One of the most untouched and untamed regions in the world, the Kimberley is your chance to truly experience the splendour of Australia's backyard. From jaw-dropping waterfalls and majestic sand-stone cliffs, to bustling wildlife, the Kimberley is the perfect match for nature lovers and adventure seekers. Whether you're looking for an expedition cruise to the Kimberley or an off-road holiday, we're here to let you know about the places you need to see in the Kimberley.
Discover the mind-bending Horizontal Falls
An unusual and honestly bizarre natural phenomenon, the Horizontal Falls in the Buccaneer Archipelago has been described by Sir David Attenborough as "one of the greatest natural wonders of the world". Naturally, this most definitely needs to be at the top of your to-do list when you visit the Kimberley. This unique phenomenon occurs as tonnes of water try to squeeze through a small gap between two mountain ranges while the tide turns. Since the water escaping the inlet fails to keep pace with the rapidly falling tide, the strange spectacle occurs! If you only have time to see just one thing while in the Kimberley, this should certainly be at the top of the list.
Saunter through the majestic Bungle Bungles
No Kimberley holiday, road trip, or cruise is complete without heading over to the Bungle Bungle Range. Boasting distinct rock domes striped in orange and black, the Bungle Bungle Range is easily one of the most memorable places to see in the Kimberley. Whether you're exploring the extraordinary Echidna Chasm or the marvellous Cathedral Gorge, the Bungle Bungle Range will leave you amazed at every moment with its natural splendour. Dating back more than 360-million years, this World Heritage locale is an absolute delight and needs to be a part of any Kimberley holiday itinerary.
Visit the enchanting Mitchell Falls
A four-tiered waterfall nestled amongst flourishing flora and orange cliff-faces, Mitchell Falls is one of the best places to see in the Kimberley, even in the dry season! Reaching a glorious 80m at its highest point, Mitchell Falls proves to become quite a mesmerizing display, especially when the Mitchell River is running strong. While adventurers might choose to fly over and view Mitchell Falls from a helicopter tour, people can alternatively embark on a short 3km walk from a nearby camping ground. No matter what you decide to do, Mitchell Falls is a locale we suggest every explorer needs to see in the Kimberley.
Explore the brilliant El Questro Wilderness Park
Spread over 400,000 hectares of land, the El Questro Wilderness Park hosts one of the most ecologically diverse regions in all of Australia. Deep gorges, towering mountain ranges, mud-flats and  bustling rainforests, the El Questro Wilderness Park has almost every kind of natural phenomenon known to man. Whether you choose to explore El Questro Wilderness Park as part of a guided tour or plan your self-guided adventure, your time in this extraordinary part of Australia will undoubtedly be treasured for many years to come.
Gaze upon the extraordinary King George Falls
While we might have already mentioned a few other waterfalls, King George Falls needs to still be on your list. Hop aboard a Zodiac and wind your way up the enchanting King George River and see these spectacular waterfalls up close and personal. Starting from a towering 80 metres, the King George Falls are the highest set of twin waterfalls in Western Australia. After gazing upon this fantastic natural wonder, we recommend then taking some time to explore the nearby Drysdale River National Park and the North Kimberley Marine Park.
Start planning your Kimberley adventure today
These are only but a few of the endless list of places to see in the Kimberley. From the Windjana Gorge and Cape Levque, to the thousands of islands dotting the Buccaneer Archipelago, the Kimberley boasts so many places to see and things to do that you'd likely need to come back for multiple visits! If you need help planning a holiday to the Kimberley, Discerning Traveller is here to help. With a team of experienced travel consultants, we can assist you in organising a bespoke Kimberley itinerary that perfectly fits your budget and style of travel. Whether you wish to explore the Kimberley with an expedition cruise, meet some likeminded explorers on a guided tour, or immerse yourself in the region with a self-guided tour, we're more than happy to help.
Contact us today or call us on 1300 950 622 and we can get started on your next bucket-list adventure!
No matter where you go visit in the amazing country across the ditch, there will always be something for you to see, experience, and explore. Nevertheless, when you are planning your next ocean cruise, it definitely helps to know where the best cruise ports in New Zealand are to make your trip planning a little easier.
You have come to the right place! Keep reading to discover the stunning highlights you need to see while cruising New Zealand. To make things even easier, we have broken the ports into North and South Island.
North Island
Auckland
As the largest city in the country, Auckland is the perfect place to start your next cruise from New Zealand. Also known as "the City of Sails", Auckland has a vibrant, multicultural feel jam-packed with thrilling experiences and flavour-filled restaurants. Moreover, Auckland is the perfect place to extend your trip before or after your cruise to travel inland for your own self-guided holiday.
Nevertheless, what makes Auckland stand out as one of the best cruise ports in New Zealand is the number of options you have in terms of different sailings. Being the largest city, Auckland offers up an even larger selection of voyages offered by even more cruise lines. You can choose between a riveting 7-day cruise across New Zealand and parts of Australia all the way to a grand 30+ day transpacific jaunt island hopping across the South Pacific. Regardless of what sailing you choose; you will not be disappointed when you visit Auckland.
Tauranga
Aptly named the "Bay of Plenty", Tauranga provides the perfect blend of natural splendour and unique cultural landmarks. Take a 45-minute hike up Mount Maunganui for a panoramic view of the harbour and beyond. Unwind by the sandy beaches of Omokoroa and Pahoia for some sun-bathing or head offshore for some big-game fishing. Alternatively, take a cultural tour of the region visiting various sites like Elms Mission House.
The biggest draw of Tauranga during a cruise of New Zealand is its proximity to the beautiful region of Rotorua. A culturally significant area to the local Moari people, adventurers who explore Rotorua can discover natural wonders including mineral terraces, geysers, and even geothermal mud pools!
Wellington
Affectionately known as "The Windy City", Wellington is so much more than just New Zealand's capitol. Wellington offers those who visit the opportunity to chance upon gorgeous natural sites, visit unique art and history museums, as well as sample a divine selection of world-class dining. Many first-time visitors will undoubtedly stroll through the must-see Wellington Botanical Gardens or hike up to the summit of Mount Victoria for a beautiful view across the entire city.
Famous for being near the locale where the critically and commercially acclaimed Lord of the Rings trilogy was filmed, Wellington has a deep connection with Hollywood and the art of filmmaking. You could book yourself to a riveting workshop that gives you hands-on accesses to the techniques and processes done to make fantasy characters come to life.
South Island
Fjordland National Park
Wild and remote, New Zealand's largest national park is just waiting for you to explore its deep fjords on a cruise. The Fjordland National Park is home to three of New Zealand's most beautiful cruising inlets: Milford Sound, Doubtful Sound, and Dusky Sound. Boasting panoramic views at every moment, glassy lakes, and snow-capped mountain ranges, Fjordland National Park is an undeniable must-visit for anyone looking to truly explore the wonderful country, especially on a cruise.
What's more, being home to an abundance of rare flora and fauna, particularly birds, you will often enjoy unique and breath-taking moments that go beyond just the lush rainforests. Boasting cascading waterfalls, awe-inspiring mountain peaks, and sparkling waterways, we cannot recommend exploring Fjordland National Park enough during your next New Zealand voyage.
Akaroa (Christchurch)
Only a scenic one-hour drive away from Christchurch, Akaroa is a fantastic port town surrounded by beautiful scenery and right in the middle of a (thankfully) dormant volcano. Akaroa is the perfect cruise port to book a riveting guided tour and visit the colony of Little Penguins residing in Flea Bay. You could also find an exciting shore excursion that visits the smallest, rarest, and friendliest dolphins in the world at Akaroa Harbour.
If you have the time to make the drive up to Christchurch for the day, explorers can enjoy a marvellous selection of museums, restaurants, and shopping. Moreover, the Christchurch Botanic Gardens provides plenty of fun to keep you busy for the whole day.
Dunedin (Port Chalmers)
As the second largest city on New Zealand's South Island, Dunedin provides a world of charm and excitement just waiting for you to experience. Home of the gold rush in the 1860s, Dunedin boasts plenty of historical landmarks and buildings with distinct Victorian and Edwardian architecture that will surely pique the interest of any history buff.
Travellers visiting Dunedin on a New Zealand cruise could chance upon the Otago Peninsula, a small inlet bursting with local nature and wildlife. With iconic rolling hills hosting colonies of albatross, penguins, sea lions, and much more, we strongly recommend booking a shore excursion that lets you get up close and personal with these creatures during your visit to Dunedin!
Ready to book your New Zealand cruise?
If so, there is no place to plan your next enchanting bucket list adventure than with us at Discerning Traveller. We have an experienced team of travel consultants who can organise a remarkable and stress-free ocean cruise for you in no time. Simply contact us today and we can craft the perfect bespoke holiday for you.
Disclaimer: All sailings mentioned are up to date as at 16 April 2021. Current itineraries may change as the year progresses and new voyages may also be added too.
With Europe, America and nearly all other international destinations off the cards for the next few months of 2021, closer-to-home domestic are the perfect alternative for those itching to get back on board. Plus, what better vantage point to explore the wondrous Australian coastline than while sipping a sumptuous cocktail and lounging serenely by the pool deck of your cruise ship?
Coral Expeditions
Australian-based Coral Expeditions is at the forefront of domestic sailings in 2021, going full steam ahead for its 25th Kimberley season running from April through to October. The line's Kimberly cruises explore the rugged land and natural highlights of the Kimberley region with its exquisite waterfalls, wildlife and tidal formations along this ancient coastline. Coral's itineraries call on remote locations that are lesser explored by tourists, taking you on an unforgettable adventure as you appreciate the local environment and culture in its most natural habitat.
Princess Cruises
Princess Cruises is currently scheduled to sail in the last three months of the year with roundtrips from Melbourne, Sydney and Brisbane taking you on exciting adventures as you discover closer-to-home gems in a completely different way. From exotic locations like Airlie Beach and Willis Island to Kangaroo Island and Port Lincoln, why not check out destinations that are spectacular enough to rival the best in the world without having to travel on an overseas flight?
Holland America Line
If you plan on truly discovering the wonders of Australia, Holland America will undoubtedly have several sailings for you in 2021. Travellers can choose between a selection of 32, 21, and 11-day Australia Circumnavigation voyages departing from Sydney or Fremantle across various parts of the stunning down-under coastline. Unwind in the Whitsundays, explore the panoramic views out in Broome, sip on sumptuous local wines in Adelaide, this and so much are what is in store with Holland America.
Celebrity Cruises
Sailing out in late 2021, Celebrity Cruises are currently offering a limited selection of Australia cruises, all of which are departing from Sydney. While there select sailings that allow you to visit the stunning landscapes of Tasmania and the clear waters of the Great Barrier Reef, most Celebrity Cruises from Australia in 2021 centre around exploring the beauty of New Zealand. From the vibrant city of Wellington to the tranquil views of Milford Sound, if you are in the mood to sail through New Zealand from Australia, Celebrity Cruises might be the choice for you!
Azamara
Love sailing with Azamara? Lucky for you, there are currently two sailings available to book from Australia in December 2021. One is a 16-night Australia Intensive Voyage departing from Perth to Melbourne, allowing guest to visit every stunning locale along the county's southern coast including Albany, Esperance, and Kangaroo Island. The other voyage is a magnificent jaunt to Singapore and Bali from Perth, with wonderful stopovers at Bunbury and the Margaret River.
Silversea
Silversea Cruises offer a remarkable selection of Australian itineraries that we are sure guests who love a touch of luxury can enjoy. Almost entirely expedition cruises, Seabourn have several Kimberley voyages departing from either Broome or Darwin aboard Silver Explorer. Guests on these Kimberley voyages can adventure through one of the last untouched areas of the globe, with rarely visited natural landmarks, endemic species, and aboriginal sites around every nook and cranny. Alternatively, in late 2021, there are a small selection of New Zealand voyages departing from Sydney or Melbourne!
New Safety Protocols On Board Cruise Ships
Cruise lines have been some of the first travel companies to adopt enhanced health and safety measures for the sake of passengers, crews and communities they visit. Some of the new protocols to give passengers additional peace of mind include:
Mandatory Covid tests for all crew and passengers before departure.
Enhanced sanitation and cleaning measures
Reduced passenger numbers
Regular temperature checks
Improved HVAC systems, HEPA filtration and ventilation
Improved medical facilities
Proof of vaccinations
All these contribute to a safer experience on your sailing without compromising on the adventures it promises.
Book with Peace of Mind
Most cruise lines have now announced more relaxed booking conditions, which are flexible and allow for easier cancellations without penalties. While each cruise line will have their own individual terms and conditions, you will likely have the option to either receive a full refund or 100 percent future cruise credit.  This is a great way to secure your next cruise trip knowing you are protected in case the world comes to a standstill once again.
Connect with Your Discerning Traveller Advisor
If you are looking for ocean cruises in 2021 and beyond, whether in Australia or overseas, Discerning Traveller has you covered. With a dedicated travel advisor to guide you through your booking, we can help you secure your dream cruise.
Connect with us and we'll work around your needs to make sure your next cruise holiday is one of the best experiences of your life. You deserve it after this year!
If Europe is on your bucket list, there's an endless lineup of must-have adventures in some of the world's most stunning destinations. From sleeping under the Northern Lights to an Alpine train ride in Switzerland to meandering through the canals of Venice to visiting a reindeer farm in Finland, there are so many unique experiences to soak up. But where do you start? We've narrowed down some enchanting ways that are sure to make you fall in love with this majestic continent.
Witness the Northern Lights on Board an Expedition Cruise
The ultimate light show, brought to you by Mother Nature, Norway's Northern Lights are a once-in-a-lifetime experience you never want to miss. Book a cruise to one of the most remote parts of the world and witness this natural phenomenon set against the backdrop of snow-dusted mountains and quaint towns. Floating on a watery seabed of luxury while gazing at the world's most luminous skies only intensifies your experience. What's more, guests will often be guided by an experienced expedition team, who enhance the adventure with their own knowledge of the region. Expedition cruise lines such as Hurtigruten are offering some exciting packages to the region, along with 'Book with Confidence' offers, which means you get a full refund if you need to cancel before your cruise.
Get an 'Insider' View on a Land Tour
A melting pot of cultures and diversity, no two places in Europe are quite the same. From ancient structures paying ode to the Roman Empire in Rome to the spoils of the Ottoman Empire in Mostar to the cobblestoned streets of Croatia, connect on a deeper level to the treasures of the land. Choose from popular land tours or opt for the path less taken as you traverse medieval towns, majestic castles and historical sites on your next cultural immersion. Get to know the region's most experienced guides who will handpick unique adventures along the way to give you an authentic insider view.
Experience the Wondrous Rail Network of Europe
No journey to Europe is complete without experiencing its extensive rail network. From the undulating landscapes of Switzerland to the historic flavour of Italy, the magic comes alive as inspirational cities and alluring landscapes combine to offer a genuine escape from the hustle and bustle of city life. A signature rail experience with a well-versed tour director will turn you into an expert of Europe in no time, creating a lifetime of memories as you enjoy exalted views and extraordinary adventures along the way. Be sure to look into guided rail journeys the next time you start planning an unforgettable holiday across Europe.
Explore Europe More Intimately on a River Cruise
One of the most incredible ways to experience the diversity of Europe is on a river cruise. River cruising takes you to smaller European towns providing an unparalleled intimate holiday that big ocean cruise ships simply cannot match. Whether you are a history buff looking to explore fairytale castles and medieval towns or want to indulge in breathtaking natural scenery, a river cruise is incredibly exciting. River cruises are perfect for those who love discovering new sights and sounds at every moment, as guests leisurely travel from one destination to the next.
Riviera Travel cruises are a fantastic choice for those looking to explore Europe on a river voyage. An exceptional cruise line with a 5-star luxury product at value-for-money fares that are significantly lower than others – without compromising on an exquisite onboard experience, you will be hard-pressed to find a European river cruise line. Moreover, Riviera Travel boasts a wonderful selection of itineraries through a number of famous European waterways including the Danube, Rhine, Seine, and so much more.
So, how will you discover Europe?
Without a doubt, Europe is one of the most interesting destinations in the world for its cultural diversity, adventurous appeal, and awe-inspiring scenery. An experienced travel advisor like Discerning Traveller can open your world to incredible travels you never imagined before. Just give us a call and let's talk about your next European holiday – it's all about you!
There's no other experience quite like a train adventure. And if you thought you'd have to travel to another continent to discover the best rail journeys, think again! Some of the world's most iconic rail expeditions are right on our doorstep. Enjoy the comfort of your own private sanctuary and scrumptious dining choices as you take in changing landscapes, terrains and wildlife from a truly unique vantage point. Embark on any of these Aussie rail journeys and get a front-row seat to breathtaking, close-to-home natural backdrops like never before.
The Ghan
A legendary rail journey between Adelaide and Darwin, The Ghan is widely recognised as one of the best rail journeys in the world. Taking 54 hours to complete the 2,979 km corridor along with a stop for four hours in Alice Springs, this three-day two-night adventure from Journey Beyond will take you back in history as you absorb ancient Indigenous rock art and discover the wonders of the Australian outback. Renowned for its luxurious onboard hospitality, try the delicious all-inclusive cuisine paired beautifully with a selection of some of the best local wines. Once you reach your destination, enjoy some immersive off-train expeditions as you explore the history, natural beauty and culture of Alice Springs, Katherine and Outback South Australia. In 2019, The Ghan completed 90 years of providing a legendary train experience to Australian and international travellers alike.
Kuranda Scenic Railway
From Cairns to Kuranda, this epic 34-km journey over just two hours is the perfect way to sample the beauty of a train trip without having to commit to a lengthy journey. Meandering through a World-Heritage-listed rainforest that is home to diverse plant and animal life dating back millions of years, take in the most exclusive views of the Coral Sea and the Great Barrier Reef. Along the way, you'll pass breathtaking waterfalls and scenery, while absorbing your Victorian-inspired rail carriage.
Indian Pacific
The Indian Pacific, from Sydney to Perth and vice versa, is named after the two oceans encountered during this epic 4,352km journey set over four days. On your rail trip, you will experience Australia's spectacular outback and interior landscapes that make this island country so distinctive – from the lush greenery of the Blue Mountains in NSW to the flat, almost treeless Nullarbor Plain. On board, you will be greeted with the finest hospitality and excellent dining paired with fine local wines, while getting the opportunity to handpick exciting off-train excursions.
Great Southern
From Brisbane to Adelaide, Great Southern is a rail journey that ticks almost every box imaginable. On-board this latest luxury rail journey in Australia, you'll have the opportunity to explore some of the finest landscapes up close and personal. The three-night journey from Brisbane to Adelaide includes a beachside dining experience in Coffs Harbour, an optional immersive day in NSW's wine region – Hunter Valley and an afternoon of unique touring experiences in outback New South Wales, such as the Mad Max Museum in Silverton . Enjoy a regionally inspired menu and delicious local wines while you take in the jaw-dropping scenery around you.
An Australian train trip is a great way to discover the wonders of our own backyard – crafting an extraordinary travel experience like never before. And with hopes of the vaccine bringing Covid-19 to its much-anticipated end, work with the Discerning Traveller team to plan a rail itinerary like no other.
With unparalleled excitement around the Queensland border opening on 1st December 2020, Australians can look forward to a summer getaway in our very own tropical paradise – and it's just a short flight away. Swathed in crystal-clear waters, lush rainforests and white sandy beaches, there is no dearth of things to do in the sunshine state for a relaxing short break. From world-famous attractions to the road less travelled, NOW is a great time to explore Queensland with your personal luxury and experiential agent Discerning Traveller.
Snorkel or Dive in the Great Barrier Reef
Without a doubt, Queensland's greatest attraction is the world's largest living structure, the Great Barrier Reef. The reef's astounding diversity or corals and marine life draws millions of visitors from all around the world every year. While 2020 is going to look a little different, local Aussies can take advantage of the raft of amazing guided tours and self-guided packages for exploring the Great Barrier Reef without having to worry about losing out to scores of international tourists.
Discover the Unique Charm of the Whitsunday Islands
Teeming with jaw-dropping natural beauty, these 74 gleaming islands along the Great Barrier Reef resemble the very best of what Queensland has to offer. Peppered with pristine beaches and clear waters, choose to stay in the comfort of a luxurious Whitsundays resort as you take in the gorgeous scenery around you. From activities like snorkeling, kayaking and stand-up paddle boarding to relaxing sunbathing or local small ship cruises, get ready to discover utopia – on your doorstep.
Dial Up the Romance on Lizard Island
With spectacular reefs fringing its untouched turquoise waters, Lizard Island is a decadent getaway for those seeking a romantic sojourn. From champagne on arrival to couples massages to incomparable coastal views to gourmet dining, get off to the best start on your honeymoon or 25th anniversary. Just want to hang out with your friends? Get a motorised dinghy and explore the array of beaches around or go kayaking in the clear waters.
Explore Daintree National Park
Daintree National Park is the oldest surviving rainforest in the world and is also a World Heritage Area. During your safari, you will discover an abundance of endangered species and wildlife, like Boyd's forest dragons, Bennett's and Lumholtz tree kangaroos, buff breasted paradise kingfishers, musky rat-kangaroos, cuscuses, spotted tailed quolls, Daintree river ringtail possums, flightless southern cassowaries and so much more. Plus, you'll find yourself awed by over 18,000 plant species dotting the park. Haven't heard of any of these before? Your tour guide will take good care of you.
Swim in the Champagne Pools on Fraser Island
A truly unique natural phenomenon, Fraser Island is made up of naturally formed champagne rock pools – creating the perfect swimming hole for those who don't want to venture too deep. Fringing the pristine waters of the ocean, enjoy a stellar view of unspoiled waters crashing against the rocks to create champagne-resembling bubbles.
Queensland has something for everyone, which is why it's no surprise that the border opening announcement was met with widespread celebration. Get in now to avoid missing out on some fantastic offers on Discerning Traveller. To make your getaway even better, give us a call now and we can help you with some exclusive upgrades.
The impact of Covid-19 on the travel industry has been devastating with border closures, cruise disruptions, airline shutdowns, and so much more. The reality is that things remain uncertain, but we are finding new ways to deal with it. As cruise lines embark on adjusting to a new normal, the face of cruising may be different – but it could still be the best holiday choice you make in the post-pandemic world.
Greater Flexibility Than Ever Before
Most cruise lines have gone above and beyond to offer significant incentives, full refunds and flexible booking cancellations. Greater flexibility in future cruise credits for cancellations even up to the day of departure has become the new norm, so bookings are better protected and travellers have more peace of mind than ever before.
Some cruise lines are even offering enhanced value options like 125% cruise credit, increased on-board credit, complimentary drinks and Wi-Fi packages and so much more. This is a welcome change, making it easier for you to commit to a cruise holiday knowing you will not lose out in case of a cancellation.
Improved Health and Hygiene Standards
Health and hygiene will be given a considerable boost once cruising becomes a reality again. Strict medical protocols, enhanced cleaning and disinfecting procedures, more hand sanitising stations, better monitoring and quarantine capabilities, improved air filtration systems and routine temperature checks could all become regular features in future cruises.
Global cruise lines have also committed to testing every crewmember and guest for Covid-19 before they board a ship. This makes it the first industry in travel and tourism to commit to worldwide passenger and crew testing. With so many health and hygiene improvements in the pipeline, cruise lines will be better positioned to protect travellers from the perils of on-board infections.
Wide Choice of Destinations Without Multiple Travel Options
Cruise lines give you a wide choice of destinations without having to use multiple travel options. For instance, you don't have to get on to a plane and check in to a hotel every single time you visit a new destination. You can choose to holiday domestically, closer to home or explore new international destinations – it's totally up to you.
A cruise holiday will take you to exciting new destinations without forcing you to pack and unpack every time – making sure you are well looked after while on board. This could potentially reduce your exposure and risk.
Better Food Handling Procedures
A cruise holiday is almost synonymous with the classic self-serve buffet. But that is likely to see a significant change with more crew deployed to look after the stations and handle the food with improved care and caution.
This means better food handling and sanitation, keeping everyone safer on board and reducing the risk of contamination. Reservation systems for dining could also be implemented to comply with stricter limits and enhanced safety protocols.
Plenty of Activities for Everyone
Cruising remains the only holiday option that has something for everyone. While this may look different post Covid-19, there will still be a raft of dining and entertainment options for all age groups, from casinos and shows for the adults to splash zones and play areas for the kids.
If you are planning a much-needed family getaway or reuniting with family members from other countries after lockdown, a cruise holiday is a perfect choice.
In conclusion, there has already been an increasing appetite to cruise in 2021 and 2022 onwards. Reservations are already up as travellers rally to plan their future getaways. For complete peace of mind on your next cruise holiday, call the specialists at Discerning Traveller and let us make the whole experience easy for you.
Disclaimer: Airline protocols are subject to change at any time. The information provided below is accurate as of Tuesday 8 September 2020.
The list of safety protocols currently being implemented by airlines is extensive, however below we've provided a short outline of what to expect when you travel with some of our partner airlines. For more information on travel health and safety protocols or to plan your next getaway, whether it be near or far, make sure to contact our specialist sales team.
FLYING DOMESTICALLY
QANTAS
Contactless check in and use of the Self-Service bag drop counters is encouraged.
Self-Service kiosks will be cleaned regularly and hygiene screens have been installed at customer service desks.
Capacity limitations will be enforced in the Qantas Lounge and all food and beverages will be hosted.
A 'Fly Well' pack will be provided prior to boarding including a face mask and sanitising wipes.
Hospital-grade HEPA filters have already been installed on all Qantas operated and Qantas codeshare aircrafts, which remove 99.9% of all particles including viruses.
Service on every flight has been temporarily simplified - the food and beverage offering has been reduced and all in-flight entertainment has been removed.
VIRGIN
Online check-in and the use of self-service kiosks is encouraged to limit interaction at the airport.
Boarding will be staggered into zones to maintain social distancing.
All aircraft are fitted with hospital-grade HEPA filters, which remove 99.9% of all particles including viruses.
Guests are encouraged to bring and use their own face masks and hand sanitiser for the duration of their journey, however both are also provided onboard.
The frequency of cleaning has been increased using special long-lasting antibacterial and antimicrobial cleaning agents.  Extra extra care will be given to high traffic areas.
In-flight catering has been simplified to reduce unnecessary contact.  Complimentary water and a snack will be provided but additional food and beverage items are not able to be purchased onboard.
FLYING INTERNATIONALLY
Qantas/Jetstar
Contactless check in and use of the Self-Service bag drop counters is encouraged.
Self-Service kiosks will be cleaned regularly and hygiene screens have been installed at customer service desks.
Capacity limitations will be enforced in the Qantas Lounge and all food and beverages will be hosted.
A 'Fly Well' pack will be provided prior to boarding including a face mask and sanitising wipes.
Hospital-grade HEPA filters have already been installed on all Qantas operated and Qantas codeshare aircrafts, which remove 99.9% of all particles including viruses.
Service on every flight has been temporarily simplified - the food and beverage offering has been reduced and all in-flight entertainment has been removed.
AIR NEW ZEALAND
Online check in is recommended to ensure limited interaction while at the airport.
HEPA air filtration systems, which remove 99.9% of all particles including viruses, will be used to purify and recycle air throughout the flight.
Hand sanitiser is available onboard each flight.
Movement throughout the aircraft will be limited once onboard.
The wearing of masks on international flights is strongly advised as an extra safety precaution.
EMIRATES
All staff will wear full personal protective equipment (PPE).
All guests must undertake a COVID-19 PCR test at a government accredited medical facility a maximum of 96 hours before your flight departure time.
Masks are required to be worn at all times onboard with the exception of while you're eating and drinking.
Social areas onboard have been closed to mitigate contact
Cabin air is constantly cleaned with hospital-grade HEPA air filters, which remove 99.9% of all particles including viruses.
Bathrooms will be constantly disinfected and if your flight is longer than an hour and a half there will be an additional member of the crew dedicated to the constant sanitisation of the lavatories.
When connecting in Dubai you will need to keep your mask on through the airport.  You'll pass through a thermal scanner before entering the connections area.  All transfer desks have been fitted with antimicrobial screens while stickers on the floor will help everyone keep a safe distance in queues.
ETIHAD
Introduction of onboard Wellness Ambassadors to provide guests with health and safety information as well as to ensure Etihad's increased hygiene measures are being followed.
All guests must undertake a COVID-19 PCR test at a government accredited medical facility a maximum of 96 hours before your flight departure time.
Cabins have been refreshed with new seat covers and carpets and they are also equipped with HEPA air filters, which remove 99.9% of all particles including viruses.
Face masks are required to be worn at all times during travel and Wellness Kits are provided onboard including a face mask, gloves and hand gel.
Each aircraft is deep cleaned and sanitised at each destination.
SINGAPORE AIRLINES
Guests will be required to complete a health declaration prior to travel.
A SIA Care Kit will be provided to all guests including face mask, hand sanitiser and disinfectant surface wipes.  All guests over the age of 2 will be required to wear a mask for the duration of their flight.
There will be designated seating zones onboard to separate transit passengers from non-transit passengers.
As well as the use of HEPA air filters, the cabin will be thoroughly cleaned prior to embarkation with extra care taken to sanitise common surfaces.  Lavatories will also be cleaned more frequently during your flight.
Headsets, headrest covers, pillow covers, bedsheets and blankets are replaced after every flight.
CATHAY PACIFIC
Cathay Pacific are encouraging contactless check-in and boarding through the use of self-service facilities.
All passengers will be temperature checked before boarding and are required to wear face coverings throughout the flight.
All surfaces will be thoroughly sanitised between every flight and the meal and alcohol service has been modified to reduce guest contact with the crew.
HEPA filters onboard each aircraft remove 99.9% of all airborne contaminants and recirculate air every two minutes.
Cabin crew will be wearing masks, gloves and goggles and will follow strict layover guidelines including no contact with the local community and close medical surveillance.
QATAR AIRWAYS
Online check in is recommended to reduce interactions at the airport.
Protective kits including face mask, gloves and hand sanitiser will be distributed to all guests. Face coverings are required to be worn at all times and face shields will be provided for embarkation and disembarkation.  Economy guests are required to wear these shields at all times during the flight while Business Class guests are asked to use them at their discretion.
Cabin crew will wear personal protective equipment (PPE) in addition to masks, protective glasses and gloves.
Every aircraft is thoroughly disinfected after every flight using products recommended by the International Air Transport Association and the World Health Organisation.
HEPA air filtration systems are installed on all aircraft to provide the most effective protection against infection.
Need further assistance on airline health and safety?
For more information on travel health and safety protocols or to plan your next getaway, whether it be near or far, make sure to contact our specialist sales team.
We are sure, that like us, you cannot wait for the day when we will be free to travel again. But we cannot ignore the fact that we are still battling to control community-transmitted Covid-19 cases. Before you even think of your next holiday, you're probably worried about the next Covid-19 outbreak. Even if we get it under control again, what if the virus resurges this summer or next winter? How do you protect your booking? Follow these simple, but smart tips and you will not only score a great travel deal, but you'll also protect yourself with better peace of mind – when you're ready to book your next holiday, of course.
Book flexible holidays
Lockdowns and travels restrictions across the world have unlocked two valuable benefits for travellers – discounted holiday deals and more flexible cancellation policies. Many travel providers are now combining exceptional savings with more flexibility, meaning you get a great price without having to worry about a hefty cancellation fee. You may only need to pay a small admin fee, which is a fraction of the cost of locking in a great holiday discount. Due to Covid-19, many airlines and hotels are also waiving change fees for new bookings, giving you even more flexibility.
Choose book now, pay later options
Some travel providers are offering options like book now (small deposit may apply) and pay the rest closer to your holiday. This is a great way to lock in some attractive travel savings without having to commit a huge sum of money upfront – especially when things still remain uncertain. If you need to change your booking in the current environment, there's a good chance you will be able to reschedule your trip to a later date without any hassle.
Get travel insurance – even for domestic bookings
Travel insurance has historically been associated with international travel because of the high cost of medical assistance overseas. But it can also help protect you from unknown issues like travel delays, trip cancellations, hired car issues, and stolen or lost baggage – whether domestic or international. However, it's important to know that most insurers are unlikely to cover pandemic related illnesses or cancellations once it becomes a known event. Research different companies to ensure you understand how policies will change for future travel. Don't assume policies will remain the same. Always check the product disclosure statement (PDS) to know what is included and what isn't.
Start with 'closer to home' trips
With Australia, New Zealand and the Pacific Islands still relatively low in their cases compared to the rest of the world, it's more than likely that domestic or Trans-Tasman travel will be on the cards well before the international borders reopen. From self-drive itineraries to flight and accommodation packages, it's such a great way to discover unforgettable gems in your own backyard whether you choose to indulge in the magnificent splendor of Ayers Rock; take in the breathtaking scenery of the Kimberleys; or island-hop across idyllic Fiji.
Travel will look different on the other side of this pandemic. The good news is you should be able to score some amazing, flexible travel deals in the meantime. Contact your friendly Discerning Traveller consultants and get complete peace of mind when you're ready to book your next holiday.
DISCLAIMER: Discerning Traveller offers no guarantees on refunds and travel insurance. This is at the discretion of the suppliers.