In order to achieve true wellness, you need to ensure your mind, body, and spirit are each given the time and care it needs to thrive. While easily said, in practice, this can prove difficult,  as responsibilities with work, family, and life in general challenge you on a daily basis. One simple way to regain control of your wellness journey is through consistent and considered nutrition. By integrating delightful and nutritious wellness cuisine into your everyday diet, you will quickly build a strong foundation that can only prove beneficial for you in both the short and long term.
Wellness Recipes Everyone Can Enjoy
But what sort of wellness recipes should you start off with? Well, with help from renowned wellness resort Chiva-Som, we have a fantastic selection of wellness recipes that you can easily cook in your own time. Both nutritious and delicious, these wellness recipes boast delectable flavour profiles and all the nutrients your body needs to thrive. Combine these wellness recipes alongside sustainable physical health, meditation, and a balanced diet, and you the goal of true wellbeing will only grow every closer.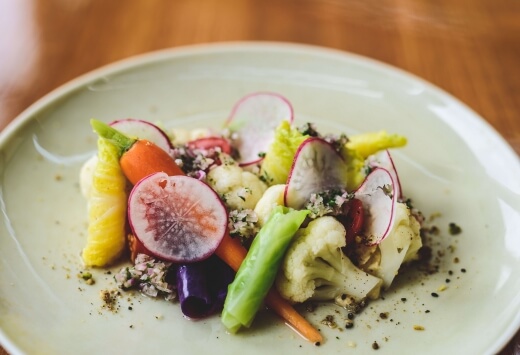 Hummus and Cruciferous Recipe
A flavour-packed wellness cuisine, this simple dish only takes moments to assemble and is a great choice for when you feel like a light yet rewarding meal. A perfect pairing of flavour profiles, the hummus and cruciferous dish is a wellness recipe you will quickly fall in love with. From the smooth chickpea hummus to the light chimichurri, be sure to give this dish a go!
NOTE: Gluten free, contains nuts, Vegan
Serves: 1
Ingredients
4g          Dukkah
50g        Cauliflower, cooked and cut into small piece
3g          Fresh red radish, thinly sliced/ 5 pcs
5g          Baby carrot, peeled cooked /1 pc
20g        Cabbage, cooked then rolled and cut into small bite size pieces/ 3 rolls
20g        Purple cabbage, cooked then rolled and cut into small bite size pieces/ 3 rolls
15g        Baby Chinese cabbage, cooked then rolled and cut into small bite size pieces/ 3 rolls
20g        Cherry tomatoes, cut crosswise/ 2 tomatoes
50g        Hummus
Hummus
500g      Chickpeas, cooked
50g        Tahini
20g        Lemon juice
20g        Olive oil
½tsp.     Salt
3g          Cumin
4            Ice cubes
Method
In a blender, add cooked chickpeas, lime juice, olive oil, salt and cumin and blend while adding the ice cubes one by one until smooth. Add tahini and blend again and mix well. Rest in the refrigerator overnight before use.
Chimichurri
12g        Chimichurri
20g        Parsley, finely chopped
100g      Shallot, finely chopped
10g        Garlic, finely chopped
75g        Coconut cider vinegar
2g          Black pepper, powder
2g          Salt
75g        Olive oil
Method
Mix all ingredients in a mixing bowl, while serving add the parsley.
Instructions
To serve: place hummus on the plate.
Arrange prepared vegetables nicely on the hummus.
Pour the Chimichurri on the hummus
Dukkah can be served separately in a small container.
Nutrients per serving
Kilocalories        300kcal
Protein               13g
Carbohydrate    31g
Fat, Total            15g
Serving amount: 215 g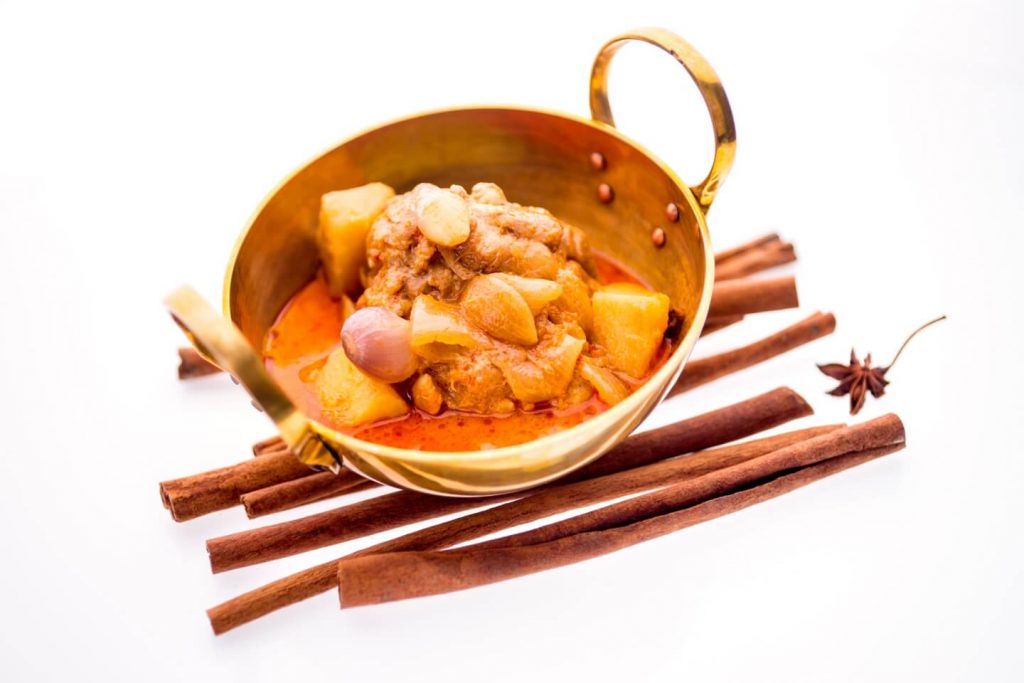 Massaman Gai Recipe
If you love Thai cuisine, this Massaman Gai dish is a must-cook wellness recipe. Packed with rich and fragrant thai flavours and paired with soft and juicy chicken, the Massaman Gai recipe is a favourite of many throughout the globe. The creaminess in this wellness recipe comes from the coconut milk, and also boasts a high amount of healthy fats that your body will undoubtedly appreciate. An excellent wellness recipe when hosting guests or when you just feel like enjoying classic Thai flavours, try out the Massaman Gai recipe tonight!
Ingredients:
4            Chicken breasts, skin removed
250ml   Coconut milk
1 tbsp   Massaman curry paste
1            Cinnamon stick
2            Star anise
20          Almonds
5            Cardamom pods
2 tbsp   Miso paste
500 ml  Vegetable stock
1 tsp      Tamarind cider
1            Potato or Sweet potato, peeled and cubed
4            Small shallots, chopped
Massaman Curry Paste:
6            Dried chilies, deseeded and roasted
3cm       Lemongrass, chopped
2cm       Galangal
1 tsp      Roasted and finely chopped Kaffir lime zest
10          Almonds
3 Cloves Garlic, roasted
1 ½        Shallot, chopped and roasted
2 Cloves roasted and ground
1 tsp      Nutmeg
1 tsp      Mace
2 tsp      Cumin seeds, ground
2 tsp      Coriander seeds, ground
1 tsp      Cinnamon
1 tbsp   Soy sauce
Instructions:
To make the Massaman curry paste, use a pestle and mortar to pound the dried chilies until you have a fine powder, then, one at a time, add the lemongrass, galangal, lime zest, almonds, garlic, shallots, cloves, nutmeg, mace, cumin seeds, coriander seeds and cinnamon pounding the mixture until it becomes smooth before adding the next ingredient.
Once all of the ingredients have been incorporated, stir in the soy sauce.
To make the Massaman Gai, pour half of the coconut milk into a large heavy-bottomed frypan over medium heat and bring to the boil, stirring constantly.
Stir in the curry paste and cook for 2-3 minutes, or until the mixture is fragrant and thoroughly blended.
Add the cinnamon stick, star anise, almonds, cardamom pods and miso paste, then mix well.
Add the vegetable stock, tamarind cider and remaining coconut milk, and bring back to the boil.
Add the chicken, potato and shallots, then reduce to a simmer. Continue cooking until the chicken and potato are tender. Remove the chicken and potato and continue to simmer until the sauce thickens.
Return the chicken and potato to the pan and boil for 4-5 minutes, then serve.
Nutrients Per Serving:
Kilocalories        302 Kcal
Protein                23 g
Carbohydrate    15 g
Fat, total             17 g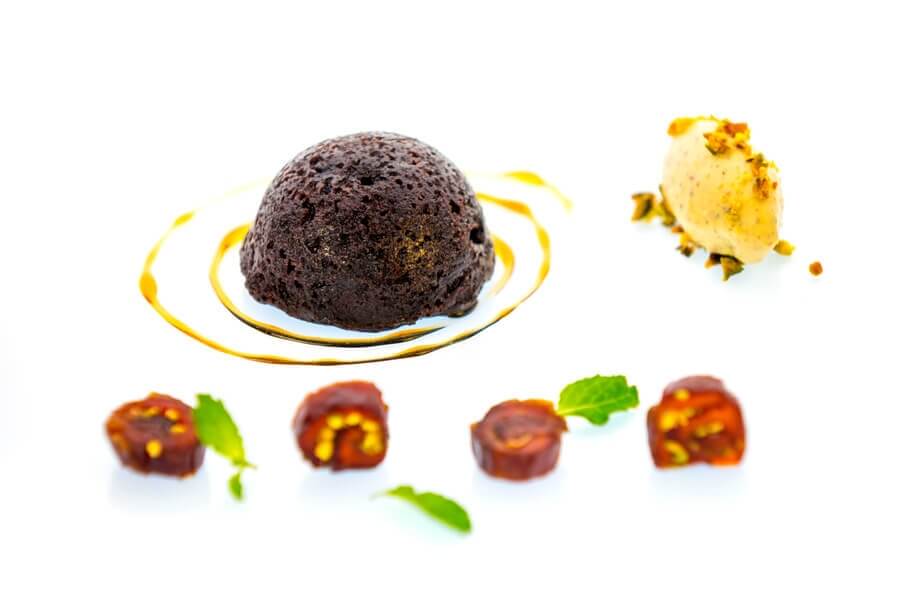 Sticky Date Recipe
Desserts don't have to be unhealthy to be delicious, and Chiva-Som's Sticky Date recipe from their 'Cooking with Light' collection by acclaimed Chef Paisarn proves it! A family favourite dessert dish for thousands of people across the world, this wellness recipe is simple to make and is the perfect comfort food for anyone feeling like a sweet treat. Featuring a delectable caramel sauce drizzled over an easy to bake cake, you just can't go wrong with this Sticky Date recipe.
Ingredients:
55g        Brown rice flour
1 tbsp   Cocoa
1 tsp      Baking soda
1 tsp      Baking powder
¼ tsp     Ground ginger
2            Egg yolks
60g        Fine brown sugar
2            Eggs whites
125g      Dates, diced then soaked in 60 ml hot water for 30 minutes
1 2/3 tbsp Coconut oil
8 scoops Passion fruit sorbet
Sliced dates, for garnish
Mint leaves, for garnish
Caramel sauce:
100ml   Honey
1 tbsp   Lime juice
1 tsp      Nutmeg
75ml     Purified water
Instructions:
To make the caramel sauce, place the honey in a saucepan over medium heat and cook until it smells slightly burnt.
Add the lime juice, nutmeg and water and simmer until the mixture becomes thick. Turn off the heat and allow to cool.
To make the pudding, preheat the oven at 120 c. Place the flour, cocoa, baking soda, baking powder and ground ginger in a bowl and mix well, then set aside. Whisk the egg yolks with 30 g of brown sugar until the mixture becomes pale, then set aside.
Whisk the egg whites with the remaining brown sugar until they form stiff peaks, then set aside.
Place the dry ingredients, egg yolk mixture, soaked dates (including soaking water) and coconut oil in a bowl and stir until combined. Gently fold in the egg whites until they are well incorporated. Pour the mixture into small pudding moulds and bake for 15 minutes, or until cooked.
To serve, pour some caramel sauce on a dessert plate and top with a pudding. Place a scoop of passion fruit sorbet to the side of the pudding. Garnish with crushed pistachios, dates and mint leaves.
Nutrients Per Serving:
Kilocalories 114 Kcal
Protein 1 g
Carbohydrate 24 g
Fat, total 2 g
Need help with your wellness journey or fine-tuning your wellness recipes?
While these wellness recipes can help kickstart your journey towards the inner balance between of your mind, body, and soul, sometimes the assistance of a guiding hand could provide you the real motivation you need to implement those healthy changes long term. If you need extra assistance transforming your well-being, we highly recommend making a reservation at the wellness resort Chiva-Som.
One of the top health resorts in the globe, this beautiful sanctuary takes a holistic approach towards your wellness, ensuring that all parts of you are well taken care of during your entire stay. Whether it's through nutrition, fitness, or targeted physical therapy, Chiva-Som will work with you to help center your wellbeing once again. If you want to learn more about this wellness resort or if you wish to discover more wellness recipes, contact Discerning Traveller today! Our team will work hard with you to organise the perfect wellness holiday with Chiva-Som that fits your schedule, budget, and preferences.