While there are so many places across Australia to visit on an extraordinary holiday, one region we can't help but place at the top of our list is the Kimberley. One of the most untouched and untamed regions in the world, the Kimberley is your chance to truly experience the splendour of Australia's backyard. From jaw-dropping waterfalls and majestic sand-stone cliffs, to bustling wildlife, the Kimberley is the perfect match for nature lovers and adventure seekers. Whether you're looking for an expedition cruise to the Kimberley or an off-road holiday, we're here to let you know about the places you need to see in the Kimberley.
Discover the mind-bending Horizontal Falls
An unusual and honestly bizarre natural phenomenon, the Horizontal Falls in the Buccaneer Archipelago has been described by Sir David Attenborough as "one of the greatest natural wonders of the world". Naturally, this most definitely needs to be at the top of your to-do list when you visit the Kimberley. This unique phenomenon occurs as tonnes of water try to squeeze through a small gap between two mountain ranges while the tide turns. Since the water escaping the inlet fails to keep pace with the rapidly falling tide, the strange spectacle occurs! If you only have time to see just one thing while in the Kimberley, this should certainly be at the top of the list.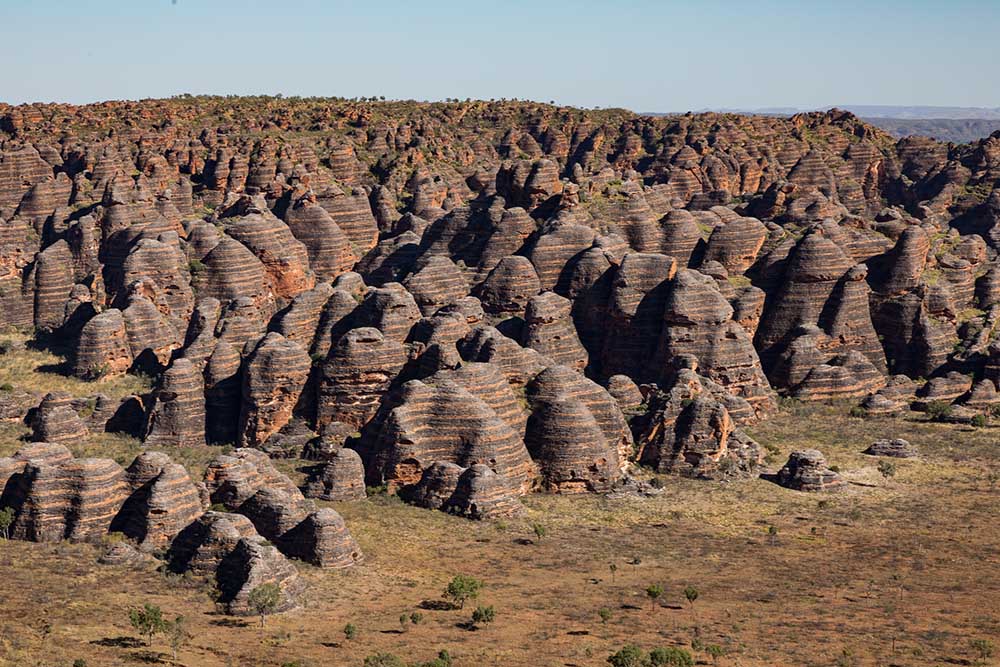 Saunter through the majestic Bungle Bungles
No Kimberley holiday, road trip, or cruise is complete without heading over to the Bungle Bungle Range. Boasting distinct rock domes striped in orange and black, the Bungle Bungle Range is easily one of the most memorable places to see in the Kimberley. Whether you're exploring the extraordinary Echidna Chasm or the marvellous Cathedral Gorge, the Bungle Bungle Range will leave you amazed at every moment with its natural splendour. Dating back more than 360-million years, this World Heritage locale is an absolute delight and needs to be a part of any Kimberley holiday itinerary.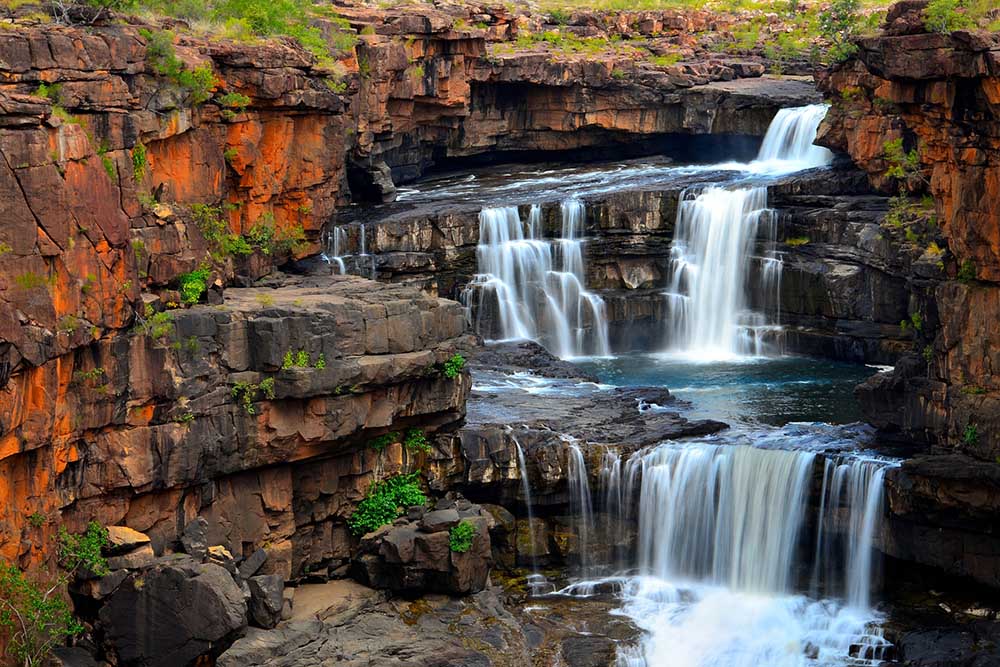 Visit the enchanting Mitchell Falls
A four-tiered waterfall nestled amongst flourishing flora and orange cliff-faces, Mitchell Falls is one of the best places to see in the Kimberley, even in the dry season! Reaching a glorious 80m at its highest point, Mitchell Falls proves to become quite a mesmerizing display, especially when the Mitchell River is running strong. While adventurers might choose to fly over and view Mitchell Falls from a helicopter tour, people can alternatively embark on a short 3km walk from a nearby camping ground. No matter what you decide to do, Mitchell Falls is a locale we suggest every explorer needs to see in the Kimberley.
Explore the brilliant El Questro Wilderness Park
Spread over 400,000 hectares of land, the El Questro Wilderness Park hosts one of the most ecologically diverse regions in all of Australia. Deep gorges, towering mountain ranges, mud-flats and  bustling rainforests, the El Questro Wilderness Park has almost every kind of natural phenomenon known to man. Whether you choose to explore El Questro Wilderness Park as part of a guided tour or plan your self-guided adventure, your time in this extraordinary part of Australia will undoubtedly be treasured for many years to come.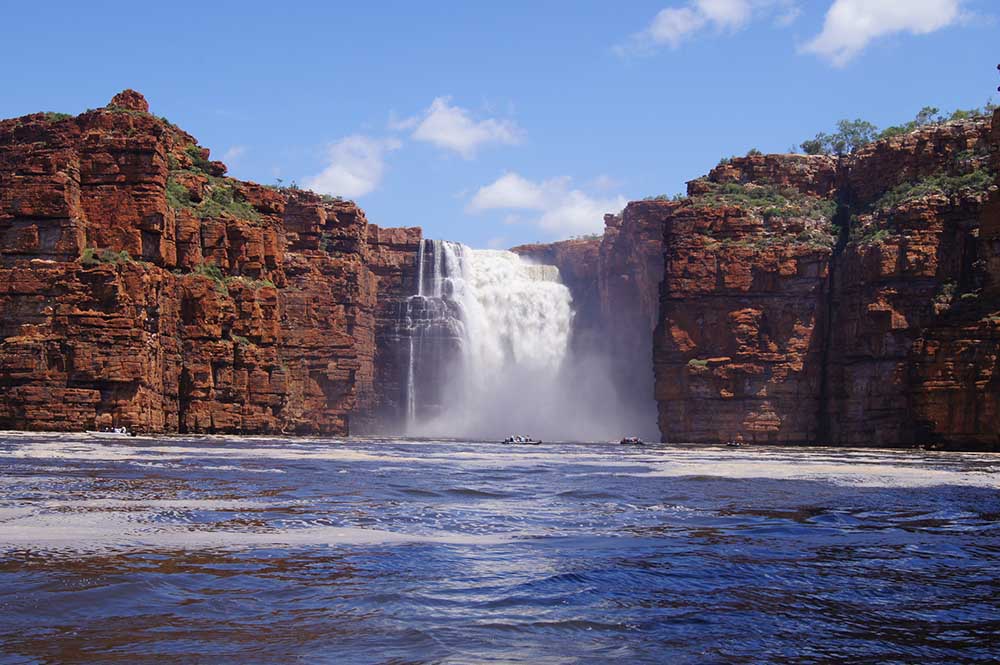 Gaze upon the extraordinary King George Falls
While we might have already mentioned a few other waterfalls, King George Falls needs to still be on your list. Hop aboard a Zodiac and wind your way up the enchanting King George River and see these spectacular waterfalls up close and personal. Starting from a towering 80 metres, the King George Falls are the highest set of twin waterfalls in Western Australia. After gazing upon this fantastic natural wonder, we recommend then taking some time to explore the nearby Drysdale River National Park and the North Kimberley Marine Park.
Start planning your Kimberley adventure today
These are only but a few of the endless list of places to see in the Kimberley. From the Windjana Gorge and Cape Levque, to the thousands of islands dotting the Buccaneer Archipelago, the Kimberley boasts so many places to see and things to do that you'd likely need to come back for multiple visits! If you need help planning a holiday to the Kimberley, Discerning Traveller is here to help. With a team of experienced travel consultants, we can assist you in organising a bespoke Kimberley itinerary that perfectly fits your budget and style of travel. Whether you wish to explore the Kimberley with an expedition cruise, meet some likeminded explorers on a guided tour, or immerse yourself in the region with a self-guided tour, we're more than happy to help.
Contact us today or call us on 1300 950 622 and we can get started on your next bucket-list adventure!