About to go on your first voyage and need some help deciding what to wear on a luxury cruise? We completely understand. There are so many things to do on a luxury cruise from active onshore excursions to specialty dining venues, and formal evenings. As such, it can be a little daunting when deciding what clothes to pack for all these occasions. Have no fear, we have all the information you need to perfectly organize your wardrobe.
Rather than define in loose terms when you can wear on a luxury cruise, let's grab accurate information on attire from the best source: the luxury cruise lines themselves! Why break down each luxury cruise line? That's because each luxury cruise line has a different dress code for you to follow. While one cruise line might let you wear casual clothing once the sun sets, another might be a little stricter. There is nothing worse than turning up with the wrong attire. Plus, it's only made worse when you're stuck at sea with no chance to re-pack what to wear on a luxury cruise. So, start planning your next luxury ocean cruise the right way and pack your bags with the right attire for your cruise ship.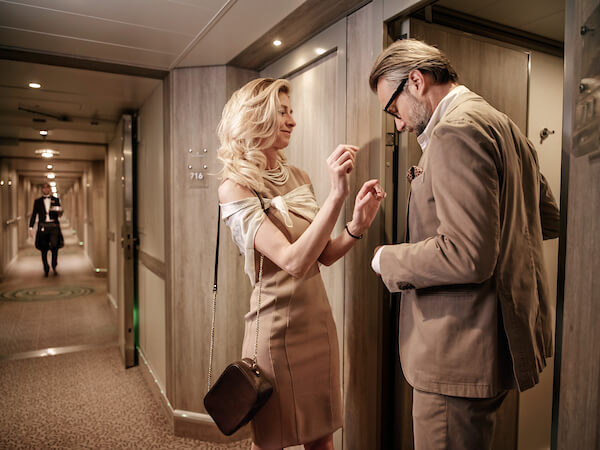 Silversea Cruises dress code
Silversea cruises have a dress code that is either casual, informal, or formal depending on the time of day aboard the ship. During the daytime, the typical attire is casual resort wear or appropriate clothing to fit the weather conditions. This is to avoid scenarios such as in expedition cruises where guests become uncomfortable trying to wear stylish but weather inappropriate attire outside. Casual wear on a luxury cruise line like this is typically open-neck shirts, slacks, pants, casual dresses, or blouses, with flat or low-heeled shoes.
Once the evening arrives, the dress code changes depending on the theming of the night. This is usually split between casual, informal, or formal. Be sure to refer to your cruise line for further information on when these nights occur. For informal evenings, gentlemen typically sport jackets and pants with an optional tie while ladies wear dresses or pantsuits. On formal nights, the attire for men is tuxedos, dark suits, and dinner jackets. Women, in the meantime, are recommended to put on their best evening gowns or cocktail dresses.
Seabourn Cruises
Seabourn cruises have embraced a modern way of styling your attire while sailing on their luxury cruise ships, introducing an elegant casual dress code during the evenings alongside a traditional formal dress code. Rather than forcing you to wear a tuxedo or an evening gown, with an elegant casual dress code, guests can choose to wear a collared dress shirt or sweater with an optional jacket for men or dress, a pantsuit or a skirt/slacks and blouse for women. It's important to note that jeans are still not appropriate for the restaurant after 6 pm, so pack accordingly!
During the day, Seabourn cruises has the atypical casual resort-wear attire done by many luxury cruise lines. Swimwear including brief shorts, swim suits as well as activewear is only allowed to be worn by the pool, in the spa, or while at the gym.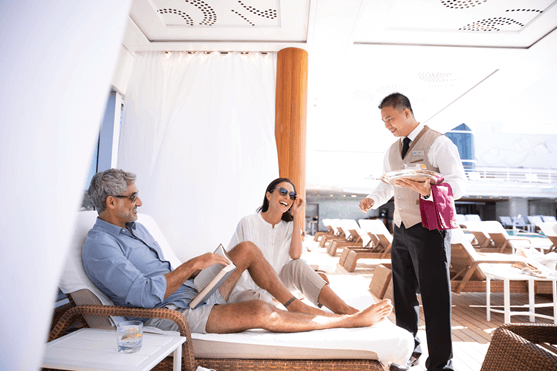 Regent Seven Seas Cruises
Regent Seven Seas cruises have two distinct dress codes. One for the daytime and one once the clock strikes 6 pm. For the daytime, guests can sport their usual resort-style clothing that can range between shorts, jeans, and sneakers. What's more, bathing suits and swimwear, in general, are only acceptable poolside and at the Bar and Grill.
The evening dress code aboard Regent Seven Seas cruises has two key styles. These give you the flexibility to plan your clothing on a luxury cruise accordingly. Elegant casual is your first choice that grants guests the option of wearing skirts or slacks with a sweater or blouse for ladies. Men can choose to put on some slacks and a collared shirt. As a note, elegant casual does not include jeans, which are considered inappropriate. The second style is your more traditional formal option which comprises of tuxedos, dark suit, and ties, or dinner jackets for men. Meanwhile, ladies can wear cocktail dresses or evening gowns. Formal optional nights only occur on certain nights of your itinerary. So, make sure you refer to your itinerary to confirm how many you can enjoy on your luxury cruise.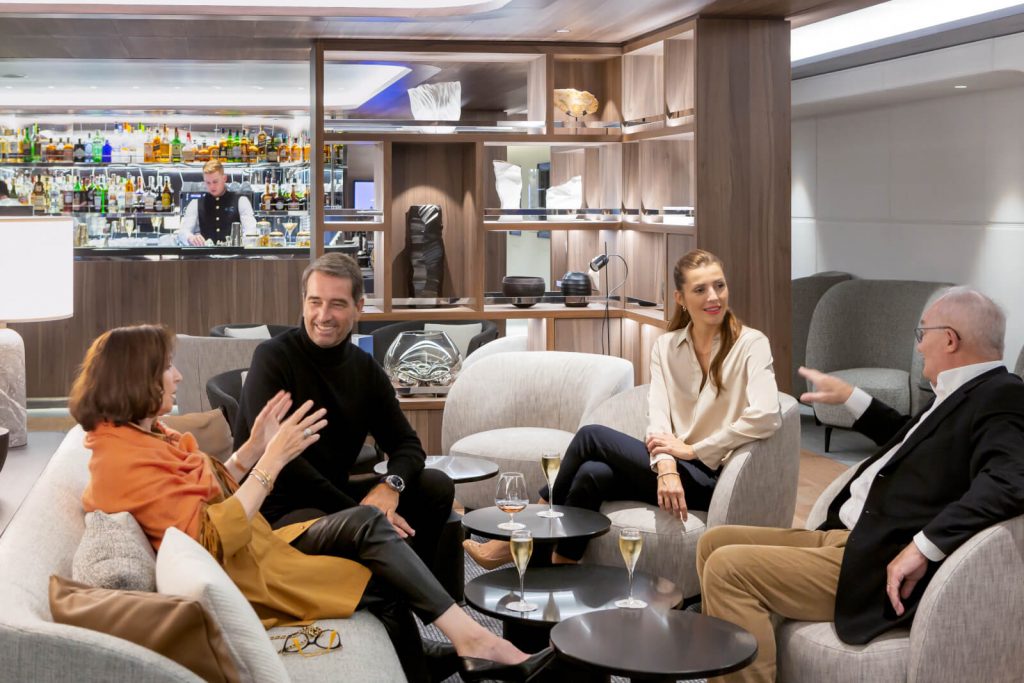 Ponant
On Ponant cruises, the cruise line recommends wearing, on most occasions, casual and elegant outfits that fit their style best. The only items considered inappropriate are t-shirts and shorts within dining venues and specialty restaurants. It's important to note that guests do love to dress up, especially during the evening. So, we suggest bringing along some semi-formal outfits for some extra variety.
On select evenings throughout your cruise, there could potentially be Captain's Evenings or Gala dinners. During these occasions, guests are strongly encouraged to wear formal attire including cocktail dresses and tuxedos.
In addition, Ponant recommends packing and wearing weather-appropriate attire on their expedition cruises. For example, on voyages to Antarctica, it's suggested to wear layered and warm clothing. Furthermore, in tropical climates lighter and thinner attire is recommended.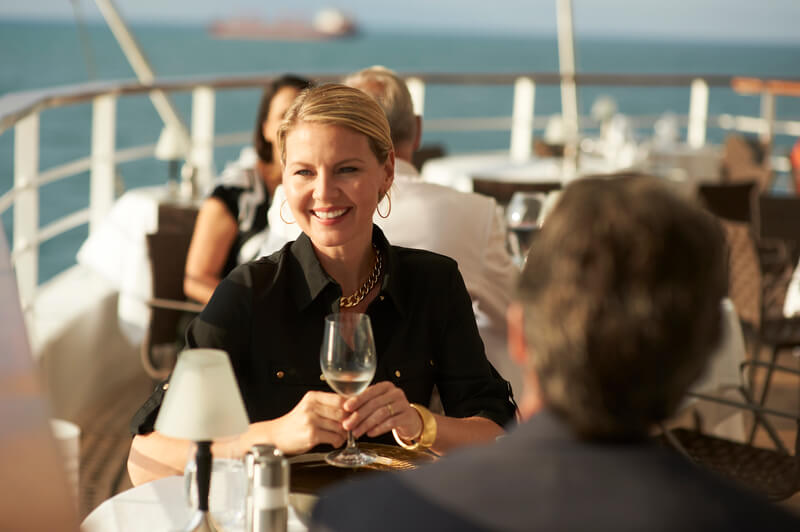 WindStar
Throughout the day, WindStar allows for casual elegant clothing throughout the ship. In general, most types of clothing are permitted aside from swimwear in public lounges and restaurants. They also recommend guests to not wear any clothing that can be considered offensive. This is to avoid situations where the comfort and enjoyment of other guests are ruined.
After 6 pm, dining venues have a country club-style dress code. This includes polo shirts, slacks, and button-down shirts for men while women can wear skirts, casual dresses, and sundresses. As there are no formal nights throughout any WindStar voyages, guests will not need to worry about packing a snazzy suit or fancy gown.
Book your dreamy luxury cruise with Discerning Traveller
Now that you know what to wear on a luxury cruise, booking your next voyage has never been easier. If you need help organizing your next luxury cruise, don't hesitate in contacting Discerning Traveller on 1300 950 622 for one of our brilliant travel consultants to help in any way. Contact us today and we can start planning the perfect adventure that matches your personal tastes, style of travel, and budget. Whether you desire an ocean cruise or an expedition cruise, Discerning Traveller is there to help you plan an escape you'll remember for a lifetime.