With pet-friendly options available when travelling across the globe, more and more people are wondering if they can take their little furry friend on a cruise. Whether they're needed as an emotional support animal, a service dog, or just an extra friend you want to bring on your adventures, the need for pet-friendly cruises is growing at a rapid pace. But the question still stands: can you take your pets on cruises?
Can you bring pets on cruises?
Unfortunately, aside from one, none of the major cruise lines you love offer any pet-friendly cruise options. So, if you've been thinking about taking your dog or cat on an ocean cruise in the Bahamas or a voyage out to Japan, you will have to look into other options.
The main exception comes for assistance dogs and service dogs, who are allowed on some cruise lines such as Seabourn, Windstar, and Azamara. Other cruise lines have a very strict no-pets allowed at all including service dogs. What's more, the pet-friendly cruise lines will undoubtedly have their own strict guidelines, with certain ships only allowing certain types of service dogs. For example, they may allow service dogs that aid with a disability, but won't allow for emotional support pets.
Either way, we urge you to take the time to research the cruise line you wish to sail with and see what types of service pets they allow on a cruise holiday. If you don't, you might accidentally hit book on a voyage you could regret later!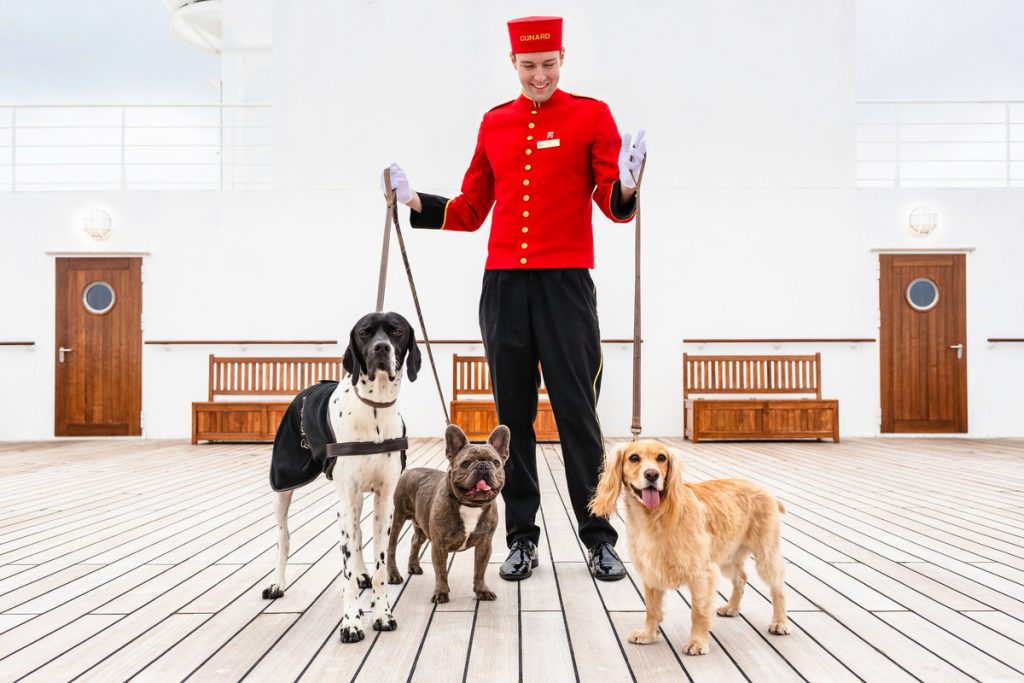 So, which cruise line can I take my pet on?
The only cruise line that offers pet-friendly cruises is Cunard Line's Queen Mary 2. On select transatlantic sailings, specifically between New York and Southampton, guests can bring their pet dog or cat onboard and have them enjoy the voyage with you.
Where can my pet go during a Queen Mary 2 cruise?
Unfortunately, your pet will not join you in the comfort of the cabin, instead your furry friend will have their own spacious onboard kennel on Deck 12. In addition, your dog or cat is not allowed in any other area of the ship, and is restricted to just the kennel area. Have no fear, the kennel area comes with its own outdoor and indoor play area which you can visit every day throughout your pet-friendly cruise. A kennelmaster is present at all times of the voyage, and they'll quickly to get to know every single furry friend to ensure they receive the best treatment.
What about food on a Queen Mary 2 pet-friendly cruise?
Worried about what they eat? Don't worry! Cunard will ask you well before the voyage the dietary requirements of your dog or cat. You can additionally bring your own pet food onboard, but any food regardless of whether it gets consumed or not stays on Queen Mary 2 due to customs limitations. We recommend checking in with Cunard well before the voyage to confirm whether your specific kind of food can be stocked.
Pets will be fed twice a day, once in the morning as soon as the kennelmaster arrives, and again at around 5pm.
Can I bring along their toys?
Definitely! While Cunard will provide your pet with a selection of toys to play with, nothing really beats their own favourite play toy.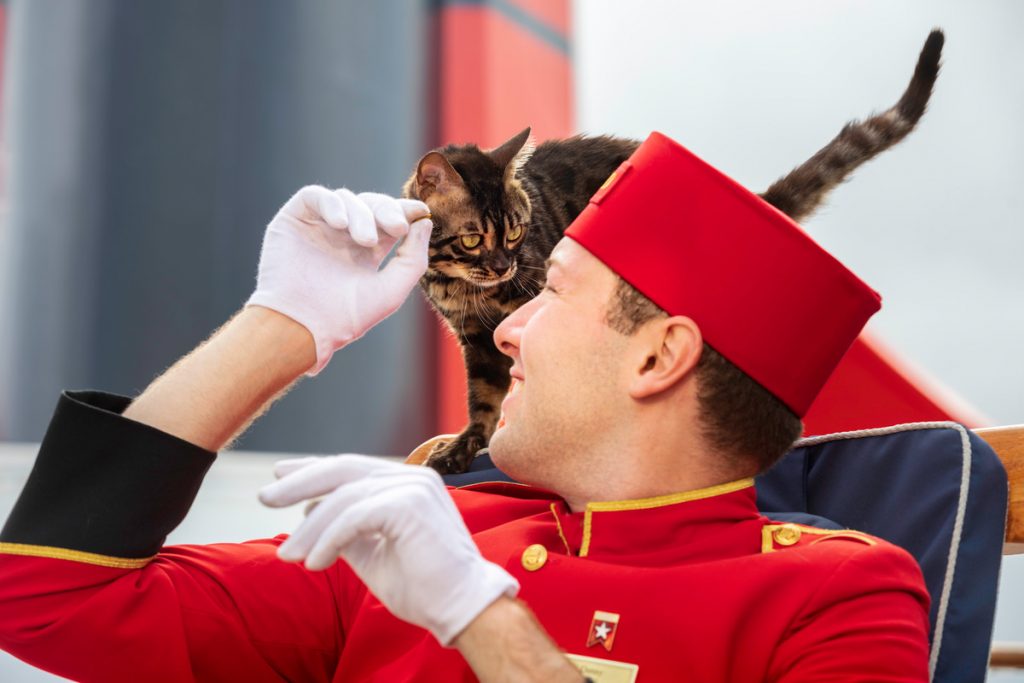 Should I take my pet on a cruise?
Well, that really just depends on the kind of dog or cat you have. If you have a medium or small sized pet that doesn't need too much activity or running around to be happy, then a pet-friendly cruise with Cunard should be a-okay. However, if your pet needs to run around every day in a large open space, then bringing your dog or cat on a cruise likely won't work.
While there is a decent amount of room for your pet to play, a seven to nine-night voyage might be a little too long for your pet to remain comfortable. Furthermore, your pet will be sharing space with 23 other dogs or cats, so if you're worried that they'll be a little too anxious or rowdy, that could be a concern too.
But, if you think your pet will like its time aboard, we strongly recommend taking your pet with you on a transatlantic pet-friendly cruise! Your dog or cat will be treated extremely well, and due to the novelty, they will rapidly become furry celebrities on Queen Mary 2, with guests coming to see what animals are accompanying them on their voyage. What's more, a pet-friendly cruise might be a great alternative to having your best buddy being stuck in a cargo hold of an airplane. While longer, it's much better than them having to endure a very stressful and potentially dangerous flight.
Where can I book my pet-friendly cruise?
Right here! Our team of experts can help you book a fantastic pet-friendly transatlantic cruise onboard Queen Mary 2 in no time. We'll help you find the right itinerary for you and can take any additional requests needed to ensure your fuzzy friend remains more than happy throughout their entire voyage. Just contact Discerning Traveller and we'll take out all the stress with booking and let you focus on planning all the best parts.