Getting to Know Antarctica
A land of extremes, from being the coldest, driest and windiest end of the earth, Antarctica holds its place in history (and geography) as one of the most heart-racing destinations, characterised by majestic snow-capped expanses, soaring glaciers, unspoiled wilderness and mesmerising hues of the night skies – awakening your soul amidst its jaw-dropping serenity.
Even though the climate is harsh, an abundance of amazing wildlife can be found here. From penguins and seals to seabirds, visitors discover these creatures up close and personal, either on a cruise or through guided tours and excursions. Furthermore, with approximately 800 species of plants and plantlike organisms, despite the extreme conditions, life can still survive and is just waiting for you to see it.
Antarctica is also home to a number of scientific research stations and bases, where scientists conduct research into a range of topics, including climate change, astronomy, and geology.
Cruising in Antarctica tends to be the most popular option due to its remoteness and harsh climatic conditions. A little over 50,000 visitors make the trip every year with about 50 expedition ships traversing the region. But being the southernmost continent with a delicate ecosystem, there are some very specific guidelines tourists are expected to follow during a visit.
Travellers must also be prepared for the extreme climate and harsh conditions and should be in good physical condition to participate in activities such as hiking and kayaking. Despite the challenges, Antarctica is a destination that offers a once-in-a-lifetime travel experience.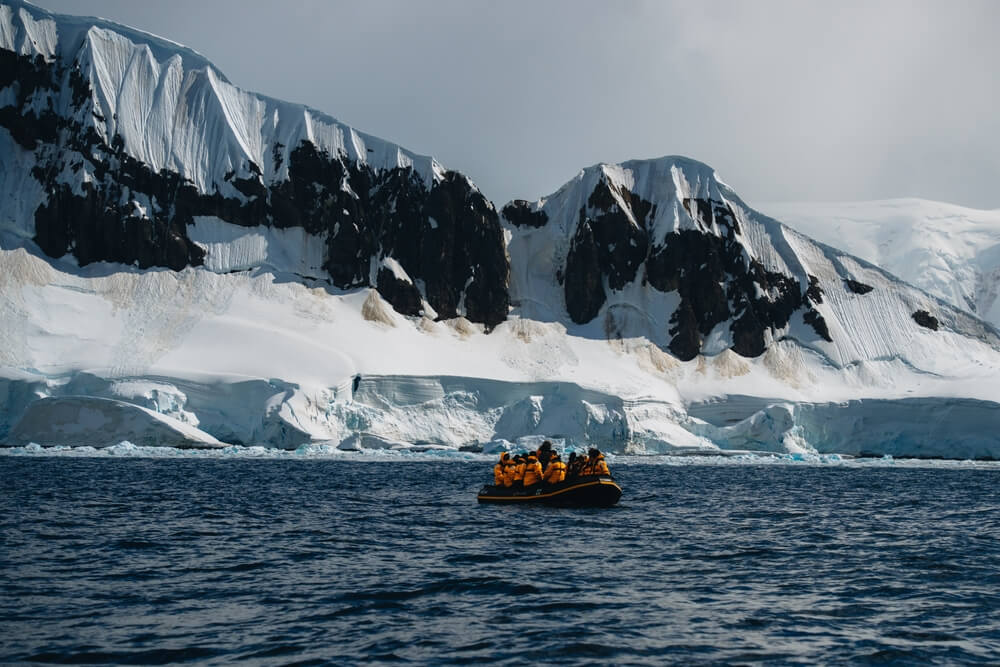 When to visit Antarctica
Antarctica is a seasonal destination, and its climate is affected by the changing seasons. Summer is the peak season for tourism, as it offers the best opportunities for wildlife sightings and adventure activities. Winters are harsh and the sun never rises, which means the continent is engulfed in darkness – not ideal for any tourist activities. Winter is primarily for scientific research and as such there are typically no Antarctica cruises occurring during this time of year.
The best time to visit Antarctica for most travellers is during the summer season, from November to March when the days are longer and the temperature rises – although not to be confused with beach-worthy weather. During this period, wildlife can be spotted in abundance and polar expedition ships make their entry through the Drake Passage, known for its notoriously rough waters between Antarctica and South America.
December and January are typically the busiest months because of their higher temperatures. However, keep in mind that this is also the peak season, and cruise ships and tour operators may be booked out in advance. For a more relaxed experience, some may choose to visit in October and April, also known as the shoulder seasons. Ultimately, the best time to visit Antarctica depends on your preferences and interests. If you're interested in wildlife and adventure activities, visiting during the summer season is recommended.
Cruising in Antarctica
Expedition cruises start entering the region from mid-October onwards but it's still icy cold with plenty of lingering ice around the Peninsula. The days continue to be short in October, but those looking to score a great deal and capture some breathtaking sunsets may enjoy the idea of an October cruise.
Most cruise lines kick off their Antarctica season in November when the days start getting longer and penguins start to make their presence felt. During this time, wildflowers are in bloom and seabirds come into view when crossing the Drake Passage. December is perhaps the best month with warming temperatures, long daylight hours and an abundance of active wildlife. Of course, keep in mind this is when prices are at their peak, particularly over the holidays during Christmas and New Year.
Peak cruising season for Antarctica continues in January with close to 24 hours of daylight. This gives you ample opportunities to spot all kinds of wildlife and create lasting memories. This is the perfect month to check out penguins, whales, seals and so much more. As the ice breaks up, some expedition cruises will take you on shore to places where few others have gone, creating a truly exceptional experience.
Once April comes around, most cruises have left the continent as the temperature starts to plummet and darkness descends – keeping out practically everyone except the researchers and scientists.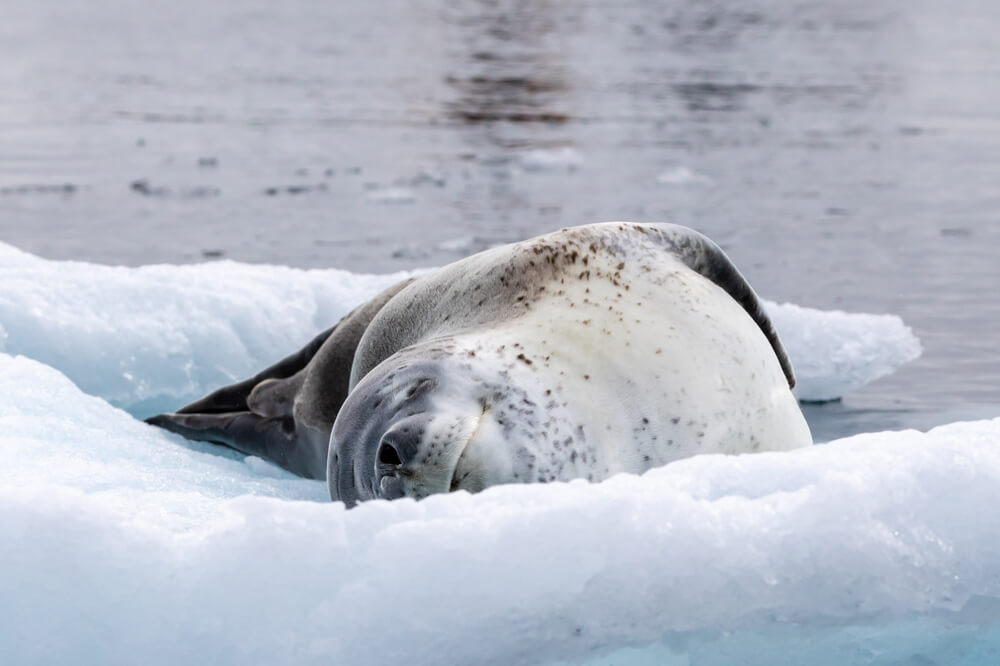 Why You Should Visit Antarctica
A trip to Antarctica is a significant personal achievement and an opportunity to explore one of Earth's most remote and isolated places. It's a chance to push yourself out of your comfort zone and experience something truly extraordinary. It is also one of the most pristine and untouched regions on Earth.
Antarctica is home to some of the most beautiful and dramatic landscapes in the world. From towering icebergs to snow-capped mountains, the scenery is truly breathtaking and will leave you in awe. Teeming with wildlife such as penguins, seals, whales and a variety of birds in their natural habitats, explorers will enjoy a magical experience.
But natural beauty and wildlife aside, Antarctica offers a range of adventure activities, including kayaking, hiking, and camping – giving you the unique opportunity to discover more of this enchanting continent up close and personal. Finally, the continent is a hub for scientific research and is home to several research stations. Visitors can learn about ongoing research and explore these fascinating bases.
What to Consider When Booking: An Antarctica Cruise Guide
If you're thinking of booking an Antarctica cruise, here are a few things you need to consider:
Price
Antarctica cruises aren't cheap. The cost per person is quite considerable, especially on the more luxury cruise lines. Flights to and from Ushuaia can be organised and included in some cruise line fares. However, additional tours may need to be booked separately so it's always best to have an experienced travel agent like Discerning Traveller who can help you make the most of your itinerary.
If you wish to reduce the cost of your Antarctica cruise considerably, then you can also book scenic only cruises onboard cruise lines such as Holland America, Princess Cruises, and Celebrity. However, it is important to note that you do lose the opportunity to truly immerse yourself into the White Continent, so make sure to weigh your options before booking. Contact us today if you wish to learn more.
Cruise Line
Some of the best cruise lines in the world have expedition cruises to Antarctica, each with its own unique style and amenities. Some cruises may be more luxurious, while others may be more focused on adventure and exploration. Speak to us about your ideal cruise experience so that we can suggest the most suitable cruise line to create your bespoke adventure in Antarctica.
Style of Travel
An Antarctica cruise is perfect for friends, couples or those travelling in groups. If you travel in groups, you can coordinate to keep your friends together when travelling out to shore on Zodiacs.
Itinerary
Different cruises will offer different routes and activities, so it's important to choose a cruise that aligns with your interests. Some cruises focus more on wildlife viewing, while others may include more adventure activities like kayaking and camping.
Activity level
There's a lot of activity, from early rises, hiking up rocky paths, to even changing clothes multiple times in a day as you alternate between cold Antarctica and the warm ship. While the cruise definitely accounts for accessibility (including for boarding the Zodiac), some parts of the trip onshore might prove difficult so consider your mobility status before making any bookings.
Drake's Passage
Those who are sensitive to seasickness might find the voyage to Antarctica a little rough. We recommend taking seasickness tablets and eating/drinking regularly to minimise any discomfort. Want to skip Drakes's Passage and avoid the long sea days? We at Discerning Traveller know that a very limited selection of cruises offers the opportunity to skip Drake's Passage entirely by flying over it and joining the ship afterwards. Contact Discerning Traveller to learn more.
Ship Size
Smaller ships may be able to access more remote areas and offer a more intimate experience, while larger ships may offer more amenities and activities. The ship you sail with can dramatically change your experience, so be sure to choose carefully and coordinate with your travelling group in selecting the right one.
Time of Year
The peak season runs from November to February when the weather is milder and wildlife is more active. But being the busiest season, prices are more expensive. Colder temperatures can also impact your own enjoyment of the region as well.
Environmental Impact
Antarctica is a fragile ecosystem, so it's important to choose a cruise that is committed to minimising its impact on the environment.