Planning an epic road trip and need some travel inspiration and places to visit in New South Wales? Don't worry, we have done the hard work so you won't need to. Whether you want a short escape to sandy shores, a tranquil nature-lovers retreat, or are seeking adventure in the outback, we have a New South Wales location that will work for you.
There is an abundance of different New South Wales attractions to check out no matter which direction you decide to go. From historical landmarks, natural phenomena, beautiful Australian wildlife, to irresistible local cuisine, there are so many exceptional places to visit in New South Wales that it can be surprisingly hard to decide where to go first.
So, round up your friends, pack the car, and pick out your playlists, it's time to discover what the best places to visit in New South Wales are for your next road trip.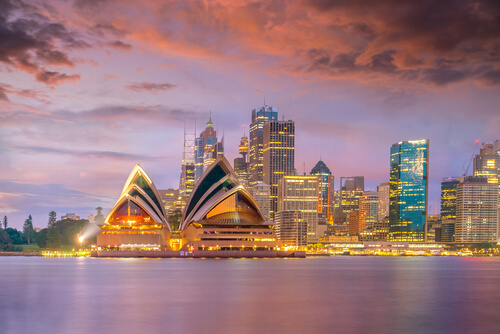 Sydney
Let's get the obvious one out of the way, shall we? From the iconic Sydney Harbour Bridge to the just as unforgettable Sydney Opera House, this beautiful city has plenty of sightseeing wonders to discover. Order up some delectable cream puffs while walking through Chinatown. Pop over for a quick swim and tan at the world-renowned Bondi beach (or the better alternatives Coogee Beach or Balmoral Beach). Reach breathtaking heights as you fly up to the top of Sydney Tower. If you want to uncover some of the best of urban Australia, there's no better place to start than Sydney.
Plus, with major events happening all year from the annual VIVID light festival, New Year's Eve fireworks, and the Sydney to Hobart Yacht Race, you'll have more than enough reasons to explore Australia's most populous city.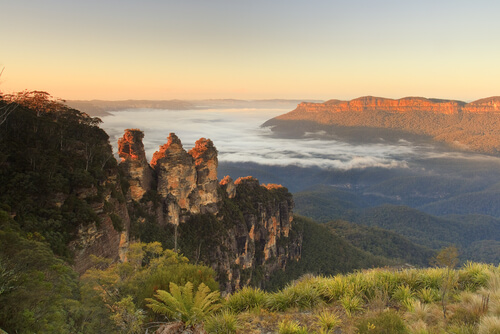 The Blue Mountains
Only a 90-minute drive from Sydney, the Blue Mountains are one of our favourite places to visit in New South Wales. Offering a seemingly endless selection of bushwalks, hiking paths, and trails to adventure through, the Blue Mountains are an easy way to reconnect with nature. From the marvellous views at Scenic World and the Three Sisters Lookout to the entrancing underground tunnels of the Jenolan Caves, you will have so much to see and do in the Blue Mountains that you'll undoubtedly need multiple visits. What's more, with excellent local restaurants, galleries, and festivals happening throughout the year, the Blue Mountains has plenty to do once you're done with your hike.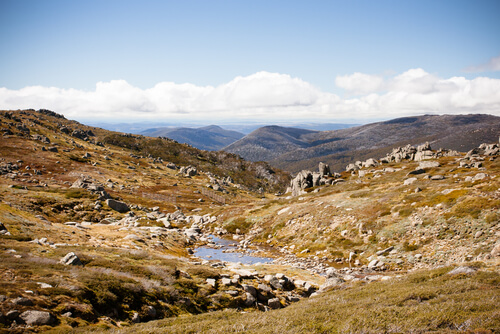 Snowy Mountains
If you want to experience snow in New South Wales, then head down to the Snowy Mountains. Only a few hours drive from Sydney, the Snowy Mountains is the go-to spot for many Australians who want to shred some slopes. Whether it's Thredbo or Perisher, thousands of people visit one of the various ski parks in the Snowy Mountains every day for the few months that snow is available.
For other times of the year, we strongly recommend hiking up Mount Kosciuszko and reaching the highest point in all of Australia. Otherwise, we suggest visiting Lake Jindabyne, taking a dip at the natural thermal pool at Yarrangobilly Caves, or enjoying some picturesque views at Charlottes Pass.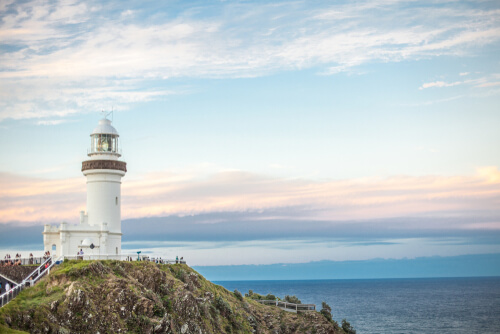 Byron Bay
Located in the northeastern corner of New South Wales, Byron Bay has rapidly become a major hotspot for many road-trip adventurers both young and old. Whether you're stopping by before heading further north into Queensland or want a perfect cap-off to your New South Wales road trip, Byron will rarely disappoint. Laze around on Seven Mile Beach or Main Beach. Order up a delectable meal or cup of coffee at one of the marvellous cafes. Stand on the westernmost point in Australia at the Cape Byron Lighthouse. Book out a quaint holiday rental and just soak in the laidback and enchanting atmosphere of Byron Bay on your next New South Wales road trip.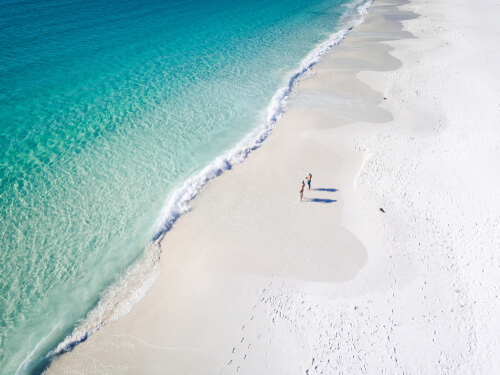 Jervis Bay
If you're thinking of going south instead of north, then no road warrior can go past Jervis Bay without taking a quick visit. Boasting iconic white-sand beaches including the famous Hyams Beach, Jervis Bay is a truly serene place to visit and one of our must-see locations in New South Wales. Hop aboard a dolphin and whale watching tour at the Jervis Bay Marine Park. Explore the pristine Booderee National Park and spot some stunning local flora and fauna. Order up some local craft beers at the pub before grabbing a mouth-watering meal. A perfect pairing with a trip to the Snowy Mountains only a few hours away, Jervis Bay is an absolute must for anyone looking to really get away from the bustle of Sydney.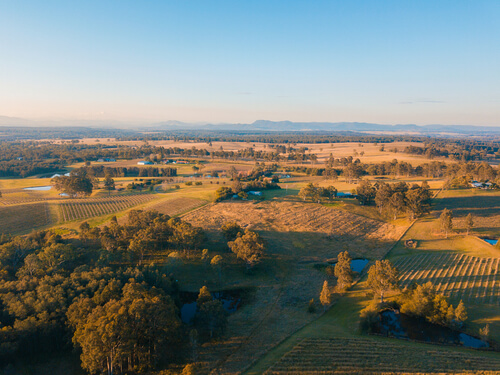 The Hunter Valley
Are you planning a romantic weekend getaway? Figuring out where to go for your hen's party? Want to taste appetizing Australian wines on your NSW road trip? If this is you, then the Hunter Valley absolutely fits the bill. As one of Australia's first wine regions, the Hunter Valley boasts a dizzying selection of wineries, each with its own unique flavours and boutique brews. Whether you're a lover of wine or just want an excuse to get a little tipsy, a wine-tasting tour is essential.
Alternatively, the Hunter Valley has a wealth of more family-friendly activities that everyone of all ages can enjoy. From the brilliantly maintained Hunter Valley Gardens and breathtaking sunrise hot-air ballooning to various parks and state forests, there's more than enough to do for any kind of traveller.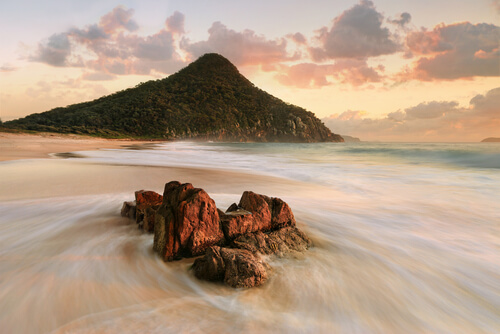 Port Stephens
As one of the best stretches of pristine coastline in Australia, Port Stephens is easily one of the best places to visit in New South Wales. Around 2 and a half hours away from Sydney, Port Stephens is just far enough to escape the bustle of the city but easy enough to drive up to on a quick weekend trip. What makes Port Stephens stand out from other must-see locations in New South Wales is its expansive sand dunes that extend for kilometres beyond the shore. This makes for the perfect spot for thrilling sand-based activities ranging from family-friendly sandboarding, majestic camel rides down to the bay and heart-stopping quad-biking. Plus, with tantalising local restaurants, exceptional beaches, and panoramic lookouts, there are plenty of activities to enjoy when visiting the beautiful area of Port Stephens.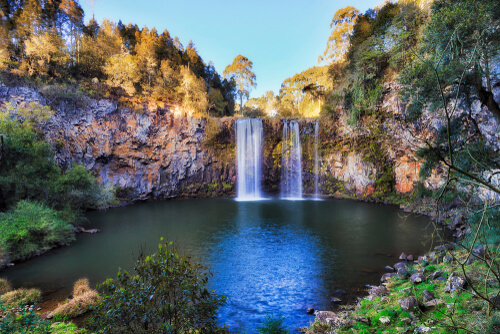 Armidale
It's time to go inland, and what better place to visit in New South Wales first than Armidale. While the charming town of Armidale itself is amazing, it's the way you decide to travel there that really makes it worth your trip. By that, we mean the ever-spectacular Waterfall Way. Lined with various waterfalls (naturally) and untouched national parks, to quaint and laidback local towns like Ebor and Bellingen, Waterfall Way is a magical road trip and one of the best ways to explore NSW.
Now, once you arrive at Armidale, you will have more than enough to do before heading back home. Enjoy some stunning local artwork at the New England Regional Art Museum. Visit the eye-catching Saints Mary & Joseph Catholic Cathedral. Pop over to one of the various national parks for an energizing hike. An excellent place to visit during Autumn or Spring, be sure to journey down Waterfall Way and visit Armidale.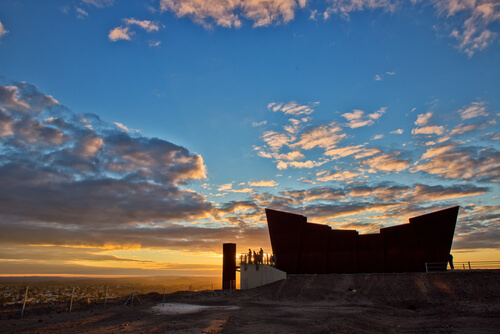 Broken Hill
More than just a popular spot for Australian filmmaking for movies such as Mad Max: Furiosa and Mission Impossible 2, Broken Hill is an undeniable must-visit location in New South Wales. As the longest running mining town in the country, Broken Hill is at the heart of Australia's history. See the gorgeous Living Desert Sculptures just north of Broken Hill. Get in touch with local Aboriginal history spanning millennia. Saunter over to Silverton and discover the 'classic Aussie outback town' at one of the various film sets in the area. Clocking in at 13 hours on the road when travelling from Sydney, make sure to pack everything before leaving home. Alternatively, just book a flight out to the regional airport and hire yourself a car to explore the area.
Orange
A little closer to home at around four hours from Sydney, Orange is a dreamy wine region that is a wonderful alternative to the Hunter Valley with far fewer people. Book in a local wine-tasting tour with your closest friends. Walk along the beautiful Orange Botanical Gardens. Gaze upon the spectacular Federal Falls before exploring some caves at Borenore Karst Conservation Reserve. With small-town charm, but a wealth of exciting things to do, Orange is a great choice for travellers on a long weekend or as part of an extended road trip across inland NSW.
Let us book your trip to one of these exciting places to visit in New South Wales
Now that you have all the inspiration you need, it's now time to book. Easier said than done right? Have no fear, our fantastic team of experienced travel consultants can help you organise all the stops, accommodation, and all the little things in between for you. Simply contact us using our phone number 1300 950 622 and one of our travel consultants will be on hand in but a moment. Whether you want a guided tour or a rejuvenating stay at a luxury resort, we can do all the hard work so you can just spend your time truly enjoying your next escape.